Overview
The complexity and potential long term ramifications arising from insurance coverage litigation not only requires a global understanding of insurance law, but often demands a creative and innovative problem solving approach.
At Reminger, our members of the insurance coverage group offer a variety of services to our clients when confronted with insurance coverage issues. We offer advice in drafting policy language to effectively address some of the unique nuances of Ohio, Kentucky and Indiana law. We also provide counsel in the recognition and resolution of coverage issues, including representation in all types of insurance coverage litigation and the defense of bad faith and other extra contractual claims.
Because of the growing sophistication of the policyholder bar, the Reminger Insurance Coverage Group conducts monthly meetings to keep abreast of the most recent developments of insurance law on local, state, and national levels. We also periodically send out Reminger Reports to our clients to alert them of a potentially significant case impacting relevant coverage issues. Our firm routinely presents seminars designed to keep our clients abreast of developments in insurance law and to provide advice on effective claims handling practices so as to avoid implications of bad faith.
Our firm has the capacity and experience to represent insurance carriers on 'cutting edge' insurance issues. Some recent examples of our representation involve the defense of the application of the intentional act exclusion relative to derivative liability claims, application of the standard and absolute pollution exclusion, determination of the number of occurrences and allocation issues arising from catastrophic losses, and application of notice provisions in both occurrence and claims made policies. We are proud of the fact that this firm has been involved in the adjudication of important insurance coverage issues in state supreme courts on multiple occasions. Our expertise and experience in insurance coverage matters covers both first party and third party insurance policies, including specialized insurance products issued to either individuals, small businesses or large corporations, and professional entities.
We have members of the insurance coverage group represented in each of our offices for effective representation on all insurance coverage concerns. Our practice group co-chair currently serves an officer of the EC Defense Network, which was established to provide a nationwide network of attorneys specializing in the defense of insurance companies against bad faith claims.
Honors & Recognitions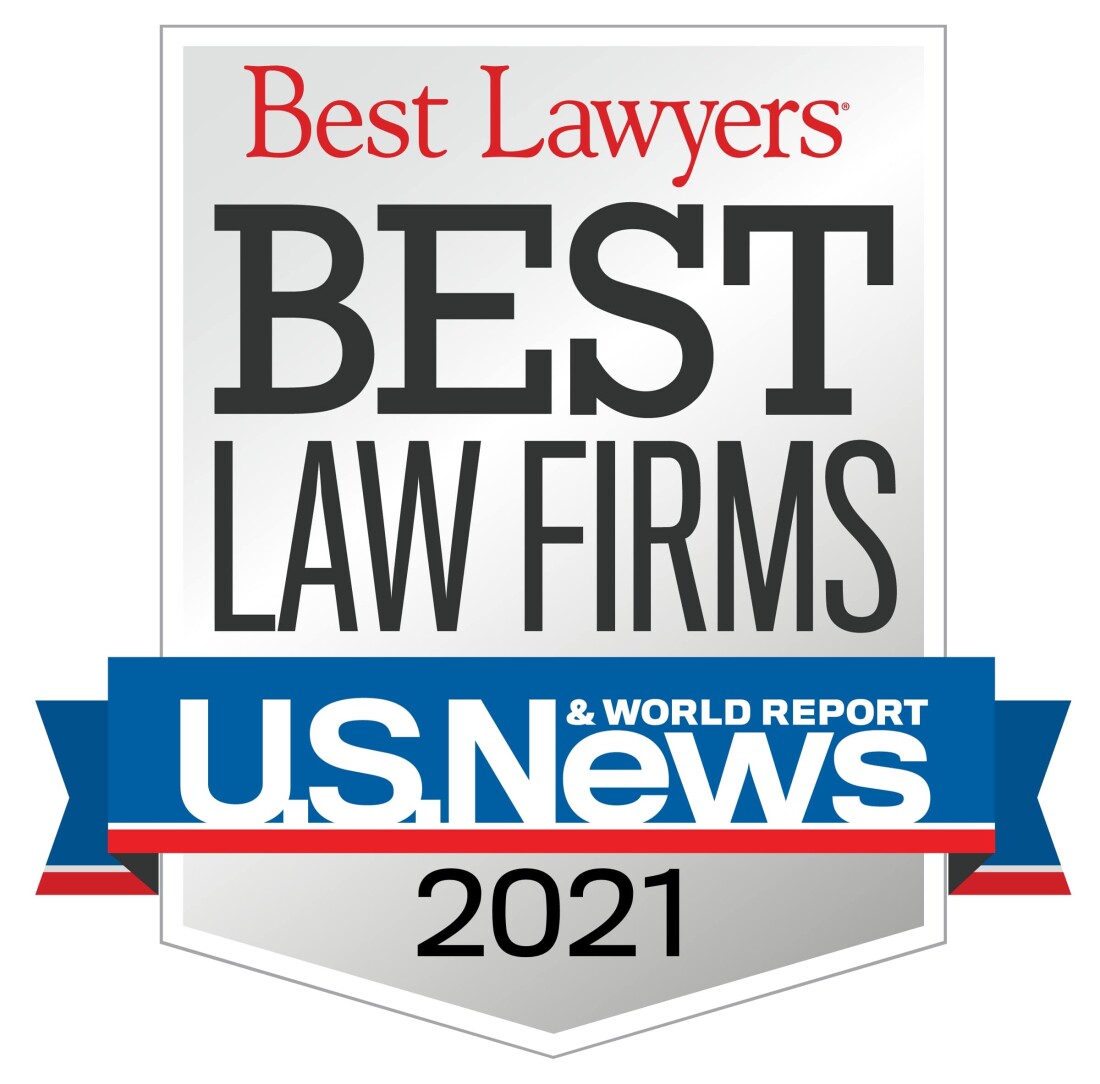 Reminger's Insurance Coverage/Bad Faith Group was ranked by U.S. News - Best Lawyers® "Best Law Firms" as National Tier 3, Metropolitan Cleveland Tier 1, and Metropolitan Cincinnati and Columbus Tier 3 for 2021.
Representative Clients
AIG, Allianz Global Risks, American Modern Home Insurance, American National Property Insurance and Casualty, CNA, Certain Underwriters at Lloyds, Cincinnati Insurance Company, ESurance, Fireman's Fund Insurance Company, General Star Management Company, Great American Insurance Company, Great West Casualty Company, Insurance Environmental Litigation Association, Mennonite Mutual Insurance Company, Monitor Liability Managers, National Chiropractic Mutual Insurance, Old Republic Companies, One Beacon Insurance Company, SOMPO International, Swiss RE, Travelers Insurance Company, Voya Financial, and various London market companies.
Results
Wohleber v. Skurko

6th Circuit Court of Appeals

Dismissed appeal for lack of jurisdiction because Bankruptcy Appellate Panel's order remanding for completion of liability phase was not final for purposes of 28 U.S.C. § 158(d)(1).

Aug 18, 2020

,

Summary Judgment Granted

U.S. District Court for the Southern District of Indiana

Successfully obtained summary judgment on behalf of insurance company regarding coverage dispute.

Jun 15, 2020

,

Dismissed Counterclaim in Favor of Defendant

Hamilton County Municipal Court

Defendant mental health services and housing to individuals with mental health issues. Defendant filed an eviction case against the resident Plaintiff for non-payment of rent. Plaintiff filed a pro se Counterclaim alleging entitlement to the security deposit, as well as alleging property damage and physical injury. Eviction was granted and magistrate dismissed Plaintiff's counterclaim.

Jan 15, 2020

,

Motion For Summary Judgment

Pulaski County Superior Court

Obtained summary judgment on behalf of insurance agency defending claims of negligent failure to write appropriate insurance.

May 22, 2019

,

Summary Judgment

Morgan County Superior Court (Indiana)

Successfully obtained summary judgment on behalf of an insurance agent and insurance carrier facing claims of negligence and breach of contract, respectively.

Mar 28, 2019

,

Dismissal granted

U.S. District Court for the Southern District of Indiana

Obtained dismissal on behalf of a a broker of disability insurance facing claims of negligent procurement of insurance.

Oct 23, 2018

,

Judgment Granted

U.S. District Court, Southern District of Ohio

Obtained a judgment in the amount of $3 million in an insurance coverage dispute.

Jul 21, 2017

,

Partial Summary Judgment Granted

U.S. District Court, Northern District of Ohio

Successful insurance coverage matter regarding duty to defend and indemnify.

U.S. District Court, Southern District of Ohio

Early dismissal of insurance agency on claims of negligence and malpractice for lack of federal jurisdiction

Mar 7, 2014

,

Motion to Sever Third Party Claims Granted

United States District Court for the Western District of Pennsylvania

Granting motion to sever third party claims against title insurance agent in class action alleging improper application of title insurance rate

Oct 11, 2013

,

Judgment Affirmed

6th Circuit Court of Appeals

Philadelphia Indemnity Insurance Company v. Youth Alive, Inc.

Defendant appealed adverse trial court judgment of denial of insurance coverage

Jul 29, 2013

,

Finding for Motorists Mutual

Lake

Defense of declaratory judgment action for denial of coverage

Apr 3, 2013

,

Judgment on the Pleadings granted

Trumbull

Defense of insurance coverage claim involving damage to insured dwelling during burglary

10th Appellate Dist

N. Jackson-Brown, Admrx. of E/O E. Brown v. United States Liability Insurance Co.

Third-Party Plaintiff appealed denial of insurance coverage for liquor liability based upon the assault, battery and firearms exclusion from adverse trial court judgment.

Feb 12, 2013

,

Defense Verdict

Lorain

Prosecution of subrogation claim for failure of defendant to properly size a sewer by-pass pump resulting in sewage backup.

Nov 19, 2012

,

Defense Verdict

Boone County, KY

Defense of uninsured motorist personal injury liability claim

Hicks v. Mennonite Mutual Insurance

Jan 27, 2012

,

Judgment Reversed

Miami

Defense of insurance coverage bad faith claim. Reversing judgment of trial court granting summary judgment in favor of defendant insurer on plaintiff's breach of contract and bad faith claims.

Nov 11, 2011

,

Reversed and Remanded

2nd Appellate Dist

Charles J. Ozvath v. The Buckeye Union Insurance Company

Defendant appealed adverse trial court's finding of coverage of duty to defend and attorney fees.

Nov 10, 2010

,

Reversed and Remanded

5th Appellate Dist

Emery Conn, et al. v. I.G. Concrete Inc. and Maxum Indemnity Company

Client appealed adverse trial court judgment regarding default from a void judgment.

Sep 23, 2010

,

Plaintiff Verdict

Lucas

Defense of catastrophic fire property damage and lost profits claim

Oct 8, 2009

,

Favorable Outcome

Montgomery

Defense of coverage duty to defense claim.
News
News
Press Release

,

Nov 5, 2020

Press Release

,

Nov 14, 2019

Press Release

,

Nov 5, 2019

Press Release

,

Nov 5, 2019

Press Release

,

Aug 15, 2019

Press Release

,

Nov 1, 2018

Press Release

,

Jun 27, 2018

Press Release

,

Dec 6, 2017

Press Release

,

Nov 1, 2017

Press Release

,

Aug 8, 2017

Press Release

,

Nov 1, 2016

Press Release

,

Jun 8, 2016

Press Release

,

Dec 2, 2015

Press Release

,

Nov 13, 2015

Press Release

,

Nov 2, 2015

Press Release

,

Jul 22, 2015

Press Release

,

Jun 19, 2015

Press Release

,

Nov 3, 2014

The Plain Dealer

,

Dec 10, 2012

Press Release

,

Nov 1, 2012

Press Release

,

Nov 1, 2011
Events
Dispute Resolution & Deal Making

Independence, OH

,

Sep 25, 2019

New York City, NY

,

Apr 19, 2019

CLE Webinar

,

Mar 28, 2019

Allocation Among Multiple Implicated Insurance Policies

The Ohio Supreme Court Deals a Heavy Blow to the Use of the Delayed-Damage Rule Against Insurance Agents in Professional Liability

Cleveland, OH

,

Dec 7, 2018

The Ohio Supreme Court Confirms that the Ohio Saving Statute Does not Apply to Actions Previously Commenced in Another State Court or in a Federal Court Located in Another State

Cleveland, OH

,

Dec 7, 2018

Coverage Issues Involving Playgrounds in Churches and Liability for Acts of Discrimination

Evaluating Coverage Concerns In Sexual Harassment Claims

Chicago, IL

,

Jun 18, 2018

The Arbitration Process and Procedure in ADR

Cleveland, OH

,

Mar 25, 2018

Las Vegas, NV

,

Mar 16, 2018

New Changes in Indiana's Criminal Rule 26 and Late Surrender Fees in Bond Proceedings

Fort Wayne, IN

,

Jul 17, 2017

Insurance Bad Faith Set in Ohio

Columbus, OH

,

Jun 16, 2017

How to Respond to a Potential Bad Faith Set Up

Cleveland, OH

,

Jun 15, 2017

Ethics in Insurance Bad Faith Claims

Advanced Issues in Insurance Law Coverage

Issues that Arise in Tri-Party Insurance Relationships

Cleveland Metropolitan Bar Assn. Insurance Law CLE, Cleveland, OH

,

Jun 7, 2016

Multiple Issues to be Addressed in Considering Coverage

Cleveland Metropolitan Bar Assn. Insurance Law CLE, Cleveland, OH

,

Jun 7, 2016

Insurance Coverage: Allocation vs. Pro Rata

Cleveland Metropolitan Bar Assn. Insurance Law CLE, Cleveland, OH

,

Jun 7, 2016

Discussion of Lincoln Electric v. Goodyear Tire & Rubber Co. decision

Cleveland Metropolitan Bar Assn. Insurance Law CLE, Cleveland, OH

,

Jun 7, 2016

Stacking Insurance Coverage and Uninsured Motorist Set-offs

National Business Institute CLE Seminar, Cleveland, OH

,

Apr 8, 2016

Getting  Ready to Clerk at a Law Firm

Cleveland Marshall College of Law, Cleveland, OH

,

Apr 6, 2016

Law Clerking: Preparing for Fall Interviews

Cleveland-Marshall College of Law, Cleveland, OH

,

Jul 31, 2015

Bad Faith Damages: It's All in the Remedy

Cleveland Metropolitan Bar Assn. Annual CLE – Insurance Coverage Issues, Cleveland, OH

,

May 29, 2015

Ramifications of Providing Defense Under Reservation of Rights

Endurance Insurance Company Claim Staff, New York, NY

,

May 27, 2015

Ramification of issuing reservation rights letter

Cleveland Academy Civil Trial Attorneys, Cleveland, OH

,

Apr 21, 2015

Non-Trucking Liability Insurance Coverage: Dynamics and Trends

Progressive Insurance Co., Cleveland, OH

,

Apr 1, 2015

Gathering Evidence to Build Your Case and the Role of Insurance Policies in Business Disputes

National Business Institute, Cleveland, OH

,

Mar 27, 2015

Stacking of Insurance Coverage and Uninsured Motorist Set-Offs

National Business Institute CLE Seminar, Cleveland, OH

,

Dec 6, 2014

Reservations and Reservation of Rights in Insurance Coverage

Northeast Ohio Association of Corporate Counsel

,

Oct 23, 2014

Strategic Considerations in Asserting Duty of Defense Coverage

Northeast Ohio Association of Corporate Counsel

,

Oct 23, 2014

Sherwin Williams Landmark Conference room -101 W. Prospect Avenue, 9th Floor - Cleveland, Ohio

,

Oct 16, 2014

Evaluating Additional Insured Coverage and Contractual Indemnity Issues

Claim and Litigation Management (CLM) Regional CLE Conference - Omaha, NE

,

Aug 14, 2014

Coverage in Professional Liability Risks

Allied World Assurance Webinar - Hartford, CT

,

Nov 15, 2013

Future of Employer Intentional Torts - Ohio State Bar Assn

CLE Seminar on Workers' Comp. and Employment Practices - Cleveland, OH

,

Sep 24, 2013

Insurance Coverage for Employment Intentional Torts

Ohio Association of Civil Trial Attorneys Insurance Coverage Seminar - Columbus, OH

,

Jun 24, 2013

The Tripartite Relationship in Insurance Representation

Akron Bar Association CLE - Akron, OH

,

Jun 7, 2013

The Fundamentals of Insurance Coverage in Medical Malpractice Policies

South Pointe Hospital Staff - Cleveland, OH

,

Mar 18, 2013

Strategies for Litigating a Coverage Case

Akron Bar Association CLE - Akron, OH

,

Oct 30, 2012

The Ins and Outs of Insurance Contracts

Lake County Common Pleas Judges and Bar Association CLE - Mentor, OH

,

Oct 18, 2012

Insurance Contracts and Bad Faith

Lake County Common Pleas Judges and Bar Association CLE - Mentor, OH

,

Oct 18, 2012

Good Faith Claims Handling

First Party Claims Conference of National Association of Public Insurance Adjusters - Providence, RI

,

Oct 16, 2012

Advanced Issues in Insurance Law

Ohio State Bar Association CLE - Columbus, OH

,

Aug 23, 2012

The Use of a Sworn Statement under Oath and Preconditions for its Use

Greater Louisville Claims Assn. - Louisville, KY

,

May 18, 2012

Discovery in Probate Court Proceedings and Alternative Disputes Resolution

National Business Institute CLE Program - Cleveland, OH

,

Mar 27, 2012

Building A Career Without Boundaries: The Truth About How to Succeed

Cleveland Metropolitan Bar Assn. Women in Law Section Seminar - Cleveland, OH

,

Mar 2, 2012

National Business Institute CLE Seminar - Independence, OH

,

Nov 15, 2011

Insurance Coverage for Punitive Damages and Intentional Torts in the United States

First Party Claims Conference - Providence, RI

,

Oct 19, 2011

Dispositive Motion Practice and Handling of an Appeal

National Business Institute CLE Seminar - Cleveland, OH

,

Aug 25, 2011

The Handling of Insurance Coverage Disputes

Ohio Judicial College Conference - Cleveland, OH

,

Jun 24, 2011

Defense Counsel and the Making of Decisions in Insurance Coverage Disputes

Ohio Judicial College Conference - Cleveland, OH

,

Jun 24, 2011

Calculation and Proving Loss

National Business Institute Insurance Law Seminar - Cleveland, OH

,

May 12, 2011

How to Prevent Bad Faith Claims - National Risk Retention Association Annual Meeting

Washington, D.C.

,

Oct 6, 2010

Insurance Coverage Issues for a Risk Retention Group

National Risk Retention Association Annual Meeting - Washington, D.C.

,

Oct 5, 2010

Choice of Law Analysis and Risk Retention Group Ability to Insure Against Punitive Damages

National Risk Retention Association Annual Meeting - Washington, D.C.

,

Oct 5, 2010

Columbus, OH

,

Aug 25, 2010

Using Effective Remedies And Ethics To Combat 'Rambo' Litigation Tactics

National Business Institute CLE Seminar - Cleveland, OH

,

Jul 30, 2010

Reservation of Rights and the Insured's Right to Personal Counsel- Council on Litigation Management Seminar- Safe Auto.

Columbus,OH

,

Jun 16, 2010

Trucking vs. Non Trucking Liability Insurance Coverage Dynamics and Trends- Progressive Insurance Co. Commercial Auto Division.

Cleveland, OH

,

Jun 9, 2010

Columbus,OH

,

May 12, 2010

"Contribution Actions Between Insurers"- Ohio Association of Civil Trial Attorneys CLE.

Columbus,OH

,

Mar 19, 2010

Networking for Law Students

Case Assessment & Evaluation, Council on Litigation Management,

Ft. Mitchell, KY

,

Aug 19, 2009

Defending the Kentucky Bad Faith Claim

Managing the Discovery Process: A Paralegal's Guide

Fundamentals of Litigation Management, Council on Litigation Management

Ft. Mitchell, KY

,

Jul 16, 2009

Insurance Law from A to Z

Anti-Concurrent Clauses

Settling Uninsured and Underinsured Motorist Claims, National Business Institute Seminar

Cleveland, OH

,

Dec 19, 2008

Special Issues in Commercial General Liability Handling and Ethical Concerns

NBI CLE Seminar, Independence, Ohio

,

Nov 12, 2008

Tort Reform and Bad Faith Litigation in Ohio, American National Porperty & Casualty Co.

Springfield, MO

,

Oct 22, 2008

Discovery, Cleveland Marshall Law Alumni Association

Bad Faith Litigation, Cleveland Marshall Law Alumni Association

Insurance Coverage and Bad Faith Issues That Arise in Risk Retention Group Policies, National Risk Retention Association Annual Conference

Washington, DC

,

Sep 24, 2008

Managing the Discovery Process: A Paralegal's Guide, National Business Institute

Cleveland, Ohio

,

Sep 10, 2008

Legal Principles of the Auto Insurance Policy, National Business Institute CLE

Cleveland, Ohio

,

May 27, 2008

Forms of Self-Insurance and Agent Broker Liability, Lorman Continuing Legal Education Seminar

Cleveland, Ohio

,

Apr 8, 2008

Litigation Bad Faith Insurance Claims, National Business Institute CLE

Cleveland, Ohio

,

Apr 1, 2008

Common Types of Insurance Coverage Disputes, National Business Institute CLE Seminar

Cleveland, Ohio

,

Oct 17, 2007

Resolving Insurance Coverage Issues, Cleveland Marshall College of Law CLE Seminar

Cleveland, Ohio

,

Sep 29, 2007

The Structure of an Insurance Policy, Cleveland Marshall College of Law CLE Seminar

Cleveland, Ohio

,

Sep 29, 2007

Insurance Coverage Law, Cleveland Marshall College of Law CLE Seminar

Cleveland, Ohio

,

Sep 29, 2007

Bad Faith & Litigating an Insurance Claim, National Business Institute CLE

Cleveland, Ohio

,

Sep 14, 2007

Insurance Bad Faith Claims, Lorman Education Services CLE to Attorneys

Cleveland, Ohio

,

Sep 14, 2007

Insurance Law: A to Z, National Business Institute CLE Seminar

Cleveland, Ohio

,

Jun 21, 2007

Bad Faith in Commercial Insurance Coverage Disputes, Royal & SunAlliance National Claims Office

Charlotte, NC

,

Feb 23, 2007

How to Get Your Expert Testimony Admitted in Ohio, National Business Institute CLE

Proper Claim Management to Avoid Bad Faith, Bristol West Ins. Co. Claim Department

Cleveland,OH

,

Jan 25, 2007
Insights
Publications
Academy of Medicine for Cleveland and Northern Ohio Journal

,

Dec 2020

Insurance Coverage/Bad Faith Newsletter, April 2020

,

Apr 3, 2020

Insurance Coverage/Bad Faith Newsletter, April 2020

,

Apr 3, 2020

Insurance Coverage/Bad Faith Newsletter, April 2020

,

Apr 3, 2020

Insurance Coverage/Bad Faith Newsletter, April 2020

,

Apr 3, 2020

Insurance Coverage/Bad Faith Newsletter, April 2020

,

Apr 3, 2020

Insurance Coverage/Bad Faith Newsletter, April 2020

,

Apr 3, 2020

Insurance Coverage/Bad Faith Client Newsletter

,

Apr 3, 2020

Insurance Coverage/Bad Faith Newsletter, April 2020

,

Apr 3, 2020

Insurance Coverage/Bad Faith Newsletter, April 2020

,

Apr 3, 2020

Insurance Coverage/Bad Faith Newsletter, April 2020

,

Apr 3, 2020

Unfair Claims Settlement Practices: Ohio Chapter

Bad Faith Claims Can Be Maintained Absent Policy Coverage

Claims Management Magazine (March edition)

,

Mar 31, 2015

Prosecuting and Defending Bad Faith Cases

Ozvath v. Buckeye Union Insurance Co. 196 Ohio App.3d 658, 2011-Ohio-5414

,

Apr 30, 2012

Reminger Resource and Tools Monograph

,

Aug 15, 2011

PLUS Journal, Vol. 24, No. 5

,

May 20, 2011

The Doctrine of Inferred Intent Applies to Exclude Coverage Where the Insureds Intentional Act and the Harm Caused are Intrinsically Tied to the Act

Published Case - Allstate Insurance Co. v. Campbell, 128 Ohio St. 3d 186, 210-Ohio-6312

,

Apr 1, 2011

Cleveland Plain Dealer

,

Dec 10, 2010

No Contest Plea Cannot Be Used to Deny Coverage

Reminger Insurance Coverage/ Bad Faith Quarterly Newsletter Spring 2010

,

Jun 1, 2010

The Duty to Defend and the Scope of the Allegations Test

Reminger Insurance Coverage/ Bad Faith Quarterly Newsletter Spring 2010

,

Jun 1, 2010

Is there Insurance Coverage for Criminal Acts?

Reminger Insurance Coverage/ Bad Faith Quarterly Newsletter Spring 2010

,

Jun 1, 2010

Duty to Defend and Intentional Act Exclusion

Reminger Insurance Coverage/ Bad Faith Quarterly Newsletter Spring 2010

,

Jun 1, 2010

Intentional Acts in Self- Defense

Reminger Insurance Coverage/ Bad Faith Quarterly Newsletter Spring 2010

,

Jun 1, 2010

Does Defective Construction Constitute an "Occurence"

Reminger Insurance Coverage/ Bad Faith Quarterly Newsletter Spring 2010

,

Jun 1, 2010

When Can a Carrier Challenge the Allegations in the Compliant?

Reminger Insurance Coverage/ Bad Faith Quarterly Newsletter Spring 2010

,

Jun 1, 2010

Ohio Supreme Court Limits Double Recovery of Medical Specials Under a Single Policy

Pollution exclusion provision in employer's liability insurance policy did not clearly and unambiguously exclude coverage for injuries which employee sustained from prolonged exposure to aircraft fuel

Intentional Act Exclusion does not bar coverage to an insured based upon negligence supervision, hiring or training

Retroactive Application to Employee of the Requirement of Action in the Scope of Employment as a Prerequisite to the Attachment of UM/UIM Coverage under Employer's Insurance Policy is not Unconstitutional

When Can a Plaintiff Recover Attorney Fees in a Coverage Case

Bad Faith Litigation: The Attorney Client Privilege

Insurance Coverage of Statutorily Based Damages

Allocation Among Multiple Triggered Policies in Ohio

"Amendments to Ohio Revised Code 2317.02 Regarding Disclosure of Attorney-Client Communications in Insurer Bad Faith Litigation"

West's Tort Law Journal of Ohio

,

Feb 11, 2008
Main Contacts
Co-Chair

Cleveland

Co-Chair

Cleveland

Cincinnati

Ft. Mitchell

Columbus

Indianapolis

Louisville

Youngstown

Lexington
All Practice Group Attorneys