Overview
Andy is an accomplished trial attorney who has represented clients for more than 25 years in complex commercial and professional liability disputes, with a particular emphasis on legal and accountant professional liability, directors and officers liability, securities litigation, and employment-related disputes. He serves as the Chair of Reminger's Legal Professional Liability, Financial Services Professional Liability and Miscellaneous Professional Liability Practice groups.
Andy has extensive trial experience in both state and federal courts, as well as extensive arbitration experience with the Financial Industry Regulatory Authority (FINRA) and administrative hearings nationwide. In his last ten FINRA arbitrations, Andy obtained eight defense awards and the two claimant awards were for only 3% and 9% of the amount demanded at closing.
Andy is a recognized "go-to" defense counsel who defends professionals and organizations accused of malpractice, breach of fiduciary duty, breach of contract fraud, and other types of misconduct. As a former insurance agent and licensed securities representative, he possesses significant knowledge of regulatory standards established by administrative entities that impact a number of professions that he represents, and he is also experienced in providing counsel an effective representation to those clients facing disciplinary proceedings and investigations.
Andy employs creative thinking and sound judgment in managing complex matters, keeping an eye on balancing results and the best strategies that align with the interests of his clients and the amount in controversy.
Andy is a frequent presenter to members of the insurance industry, the bar, and the financial services and real estate industries. He is a Past President of the Professional Liability Attorney Network and is a member of the Professional Lines Underwriting Society, and other legal and bar associations.
Honors & Recognitions
Listed in Best Lawyers in America for Commercial Litigation and Insurance Law, since 2006
Recognized as a Super Lawyer in Ohio Super Lawyers Magazine

Professional caddy at numerous national golf tournaments including the 2010 and 2011 PGA Championships at Whistling Straits and the Atlanta Athletic Club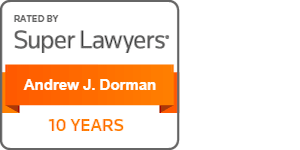 Community & Professional
American Bar Association
Ohio State Bar Association
Defense Research Institute
Cleveland Metropolitan Bar Association
Professional Liability Underwriting Society
Professional Liability Attorney Network (Past Chair)
Canterbury Golf Club
Results
For a more complete list of trial results, please contact attorney.
Athens County Court of Common Pleas

Obtained dismissal in legal malpractice action alleging malpractice of appeal of criminal matter through grant of motion for summary judgment.

Cuyahoga County Court of Common Pleas

Obtained dismissal in legal malpractice action through grant of motion to dismiss within 90 days of assignment.

Cuyahoga County Court of Common Pleas

Obtained dismissal in legal malpractice action alleging failure of appellate counsel to file motion with trial court through grant of motion for judgment on the pleadings within 90 days of assignment.

Jefferson County Kentucky Circuit Court

Obtained dismissal in professional negligence claim against an insurance agent and agency through grant of motion for summary judgment, successfully dismissing eight civil claims on the eve of a scheduled trial.

Jul 28, 2022

,

Motion for Summary Judgment Affirmed

8th Appellate Dist

Affirming the trial court's grant of summary judgment in favor of defendant law firm and individually named attorneys concerning the handling of an underlying complex business dispute and multi-million dollar property transaction.

Summit County

In a case alleging legal malpractice, case proceeded to bench trial with all claims against the lawyer being dismissed and costs being taxed to the plaintiff.

Cuyahoga County Court of Common Pleas

Motion for summary judgment granted in favor of our short-term rehabiliation center client against employee claims of race discrimination.

Cuyahoga County Court of Common Pleas

Defense of a condominium association and its board of directors against breach of contract and breach of fiduciary duty case.

Nov 18, 2020

,

Summary Judgment Granted

U.S. District Court, Northern District of Ohio

Motion for summary judgment granted in favor of nursing home against employee claims of age discrimination and retaliation.

Oct 28, 2020

,

Motion for Judgment on Pleadings Granted

Cuyahoga County Court of Common Pleas

Granting of Motion for Judgment on the Pleadings and dismissing Plaintiff's legal malpractice claim on the basis that the attorney-defendant owed no duty to Plaintiff to object to a sentence arising out of a probation violation when Plaintiff committed non-technical violations of her parole.

Jun 23, 2020

,

Motion for Summary Judgment Granted

Lake County

Motion for summary judgment granted in favor of employer against employee claim of wrongful discharge in violation of public policy.

Jan 2, 2020

,

Judgment Affirmed

8th Appellate Dist

Appellate court affirms trial court's dismissal of plaintiff's legal malpractice claim, finding that defendant-attorney exercised sound professional judgment.

Sep 5, 2019

,

Complaint dismissed with prejudice

Cuyahoga

Time-barred legal malpractice complaint dismissed in its entirety following a grant of defendant-attorney's motion for judgment on the pleadings 171 days after receipt of assignment.

FINRA Arbitration

Defense of respondent insurance agent from claims of negligence, negligent and fraudulent misrepresentations, and unsuitability.

May 17, 2019

,

Dismissal of complaint

Cuyahoga

Defense of legal malpractice claim against appellate attorney alleging a failure to object to the State's submission of inadmissible exhibits into the appellate file.

Cuyahoga County

Former client-business owner brought a legal malpractice lawsuit against former attorney for alleged deficiencies in the handling of a business dispute and probate matter.

Dec 28, 2017

,

Motion For Summary Judgment

Summit County

Michael A. Mazzaggati v. Peyton N. Burrell, et al.

Motion for summary judgment granted in favor of a commercial insurance agency dismissing all claims in their entirety.

Oct 5, 2017

,

Award in favor of our clients

FINRA Office of Dispute Resolution, Chicago, IL

Cuyahoga County

Defense of putative class action alleging fraud, breach of fiduciary duty, unjust enrichment, and breach of privacy claims against an asset retrieval company for services performed throughout Ohio.

Mar 30, 2017

,

Summary Judgment Granted

Lake County Court of Common Pleas 

Defense of an insurance agent from a claim of declaratory judgment brought by a Plaintiff who asserted that she should have been the only beneficiary on a life insurance policy.

Feb 22, 2017

,

Dismissal of All Claims

FINRA Arbitration

Defense of a broker-dealer and broker against claims of unsuitability, breach of fiduciary duty, breach of contract, and negligence brought by a former client

Jan 19, 2017

,

Motion to Dismiss granted for failure to prosecute

U.S. District Court, Northern District of Ohio

Defense of wrongful termination case

Jan 17, 2017

,

Summary Judgment Granted

Cuyahoga County

Defense of a restaurant from a claim of negligence brought by a Plaintiff who asserted she slipped and fell

Dec 30, 2015

,

Motion For Summary Judgment

U.S. District Court for the Southern District of Indiana

Vaughn v. Radio One of Indiana, L.P. Court granted summary judgment in our favor on all claims.

Apr 21, 2015

,

Petition for a writ of certiorari denied

U.S. Supreme Court

Dublin Eye Associates, P.C., et al. v. Massachusetts Mutual Life Insurance Co.

Plaintiff appealed adverse U.S. 6th Circuit Court of Appeals judgment in ERISA breach of fiduciary duty claims.

Cuyahoga

Defense of discrimination employment practices claim

Cuyahoga County

Defense of wrongful termination employment practices claim

Jan 17, 2014

,

Judgment Affirmed

6th Appellate Dist

Gregory G. Johnson v. Ohio National Life Assurance Co.

Gregory G. Johnson v. Ohio National Life Assurance Co. Plaintiff appealed adverse trial court judgment in claim for permanent disability benefits under disability policy.

Jan 13, 2014

,

Directed Verdict

FINRA

Defense of arbitration claim brought forth by claimants concerning the purchase of five variable annuity products. After claimants' case-in-chief, the arbitrator panel granted directed verdict and agreed that the claim was factually impossible and there was an absence of damages.

Nov 27, 2013

,

Motion to Dismiss Granted

Summit

Defense of broker dealer financial services liability claim

Oct 24, 2013

,

Motion to Dismiss Granted

Cuyahoga

Defense of broker in financial services liability claim

Aug 30, 2013

,

Favorable Outcome

FINRA

FINRA Arbitration defense of securities broker dealer

Aug 23, 2013

,

Summary Judgment Granted

Richland

Defense legal malpractice claim

U.S. District Court for the Eastern District of Kentucky

Breach of fiduciary duties under ERISA

Dismissal of Action

Defense of disciplinary action by Certified Financial Planning Board

U.S. District Court, Northern Ohio

Shieldmark, Inc. v. Creative Safety Supply, LLC. Defense of legal malpractice claim in patent infringement case

Dec 14, 2012

,

Favorable Outcome

Detroit, MI

FINRA arbitration defense of financial services professional liability claim

May 30, 2012

,

Motion For Summary Judgment

Wood

Defense of breach of insurance contract and bad faith claims relating to two disability income insurance policies.

May 23, 2012

,

Motion To Dismiss

Lorain

Claims of negligence/breach of fiduciary duty for alleged mishandling of a UTMA account.

EEOC

Defense of EEOC Complaint

Dec 23, 2011

,

Award for Defendant

Indianapolis, IN

FINRA Securities Arbitration defense involving claim of unsuitability of variable annuity products to plaintiffs

May 5, 2010

,

Favorable Outcome

Charlotte, NC

Arbitration defense of security dealer E&O claim involving alleged order to sell securities in Claimants account

Chicago, IL

FINRA Arbitration defense involving a registered representative in a 419 Plan transaction
News
News
Super Lawyers Magazine

,

Dec 30, 2021

Press Release

,

Dec 8, 2020

Press Release

,

Nov 3, 2020

Press Release

,

Aug 20, 2020

Press Release

,

Sep 20, 2019

Press Release

,

Aug 15, 2019

Press Release

,

Aug 15, 2018

Press Release

,

Aug 15, 2017

Cleveland Metropolitan Bar Journal

,

Dec 2016

Press Release

,

Aug 15, 2016

Press Release

,

Dec 2, 2015

Press Release

,

Aug 17, 2015

Press Release

,

Dec 3, 2014

Press Release

,

Aug 18, 2014

Press Release

,

Jul 25, 2014

Press Release

,

Dec 5, 2013

Press Release

,

Dec 17, 2012

Press Release

,

Aug 24, 2012

Press Release

,

Dec 16, 2011

Press Release

,

Aug 31, 2011

Crain's Cleveland Business

,

Aug 8, 2011
Speaking Engagements
Updates and Trends in Accounting Malpractice, Securities Litigation and Banking Disputes

Updates in Financial Advisor and Financial Institution Liability

Jersey City, NJ

,

Jun 12, 2019

Preparing For and Conducting an Effective Mediation

Update on Transactional Legal Malpractice

Las Vegas, NV

,

Jun 14, 2018

Professionalism in the Context of Civil Litigation

Hartford, CT

,

Feb 27, 2018

Trends in Life Agent and Broker/Dealer Claims

Phoenix, AZ

,

Sep 28, 2016

Creating a Workplace Environment that Promotes Feedback

Legacy Health Services Directors of Nursing, Cleveland, OH

,

Apr 27, 2016

Winning at Mediation

Hartford Financial Products Claim office, New York, NY

,

Feb 3, 2016

Arbitration vs. Litigation and Dodd-Frank Act

Independent Broker Dealer Conference Consortium, Coral Gables, FL

,

Oct 22, 2015

Arbitration v. Litigation and Dodd-Frank Act and the Proposed Uniform Fiduciary Duty

7th Annual Independent Broker-Dealer Conference, Coral Gables, Florida

,

Oct 22, 2015

Recent Trends and Defense Strategies in Lawyer Professional Liability Risks

Professional Liability Attorney Network, Hartford, CT

,

Apr 23, 2015

"Ethics of Social Media (Do's and Don't's)

ProSight Specialty claims and underwriting staff, Morristown, NJ

,

Apr 8, 2015

Legal Malpractice: Trends and Defense Strategies

Professional Liability Attorney Network Regional Meeting, Kansas City, MO

,

Mar 12, 2015

Recent Developments in the Securities Industry

Zurich Insurance FI, D&O and EPL Claim Department Seminar, New York, NY

,

Sep 30, 2014

Anatomy of a Professional Liability Lawsuit, ProSight Claims Department Presentation

New York, NY

,

Feb 21, 2014

Conflicts of Interest: Defense Counsel and Carrier Perspectives

Allied World Assurance Webinar - Hartford, CT

,

Nov 15, 2013

Trends in Legal Professional Liability

26th Annual PLUS Conference - Orlando, FL

,

Nov 4, 2013

National Updates on Financial Professional Liability and Legal Professional

Professional Liability Attorney Network (PLAN) Conference - New York, NY

,

Jun 20, 2013

An Overview Of Significant Developments in FINRA Arbitration

Prosight Specialty Seminar - Mt. Kemble, N.J.

,

Dec 18, 2012

Legal Professional Liability Emerging Issues to Third Parties

Professional Liability Attorneys Network - New York, NY

,

Jun 28, 2012

Lawyers, Accountants and Insurance Brokers Claims Arising out of Estate and Retirement Planning

Annual ExecuSummit Conference - Sheyboygan, CT

,

Jun 12, 2012

Legal Malpractice: The Rise of the Third-Party Claims and Claims by the Government

OneBeacon Professional Insurance Annual Lawyers Professional Liability Risks Management Seminar - Las Vegas, NV

,

May 16, 2012

Legal Malpractice from the Defense Perspective

Cleveland Marshall School of Law CLE - Cleveland, OH

,

Mar 3, 2012

Federal Regulatory Reform: The Dodd Frank Act

Eagle International Associates, Inc. Fall Conference - New York, NY

,

Oct 14, 2011

Real Estate Agent Errors and Omission Litigation and Trends - One Beacon Insurance National Webinar

Legal Professional Liability Trends in View of Financial Institution Meltdown

Professional Liability Attorney Network (PLAN) Seminar - Hartford, CT

,

Apr 13, 2011

The Dodd-Frank Recent Legislation Effect on Security Dealers and Investment Advisors - Ancora Group

Cleveland, OH

,

Mar 22, 2011

Overview of Financial Services Liability Exposures - Cedarbrook Financial Partners

Cleveland, OH

,

Jan 28, 2011

Financial Institutions, Advisors and Security Dealers Under the Increased Regulatory Environment - CNA Global Specialty Lines

Professional Liability Attorney Network (PLAN) - New York, NY

,

Dec 2, 2010

What Real Estate Operating Officers, Management and Staff Need To Know About Employment Practices Liability

Keller Williams Regional Franchises Seminar - Cleveland, OH

,

Jul 29, 2010

Practice Areas in Professional Liability, NYC

Recent Developments of the Financial Industry Regulatory Authority (FINRA)
Insights
Publications
Employment Liability Newsletter

,

Aug 2018

Legal Professional Liability Newsletter

,

May 12, 2017

Reminger Co., LPA Financial Services Professional Liability Winter 2016 Newsletter

,

Feb 12, 2016

Financial Services Professional Liability Fall 2015 Newsletter

,

Sep 1, 2015

May 2015 CalSurance Newsletter

,

Jun 1, 2015

CalSurance Newsletter

,

Feb 18, 2015

Crain's Cleveland Business

,

Nov 18, 2014

Protect Your Business, The E-Discovery Process

Crain's Cleveland Business

,

Nov 17, 2014

SEC and Courts May Consider Events Outside of Five Year Statute of Limitation in Crafting Enforcement Sections

CalSurance Quarterly Newsletter

,

Aug 18, 2014

CalSurance Investment Advisor Perspectives - May 2014 Issue

,

May 15, 2014

Financial Services Professional Liability Newsletter-Spring 2014

,

May 7, 2014

CalSurance Investment Advisor Perspectives-February 2014 issue

,

Feb 11, 2014

Arbitration Fairness Act - Part II 

CalSurance Quarterly Newsletter

,

Nov 11, 2013

CalSurance Investment Advisor Perspectives Quarterly Newsletter

,

Jul 30, 2013

U.S. Supreme Court Reaffirms Commitment to Arbitration 

Reminger Employment Practices Newsletter - Spring 2013

,

Apr 15, 2013

Reminger E-Newsletter

,

Feb 3, 2013

NLRB Takes a Hardline Approach Against Class Action Waivers in Employment Applications

PLUS Journal - August, 2012

,

Sep 1, 2012

Financial Services Professional Liability E-Newsletter

,

Feb 9, 2012

Crain's Cleveland Business - November 7, 2011

,

Nov 7, 2011

When Can Employers Be Held Liable For The Sexual Harassment of Third Parties

Employment Practices Group E-Newsletter - Summer 2011

,

Jul 1, 2011

E-Newsletter -Financial Services Professional Liability Group

,

Jun 1, 2011
Reminger Reports
Education
J.D., Cleveland State University College of Law, Cum Laude, 1994
B.S.B.A., Bowling Green State University, 1989
Admissions
State of Ohio, 1994
U.S. Court of Appeals for the Sixth Circuit, 1994
U.S. District Court, Southern District of Ohio, 1994
U.S. District Court, Northern District of Ohio, 1995
Commonwealth of Kentucky, 1995
U.S. District Court, Western District of Kentucky, 1995
U.S. District Court, Eastern District of Kentucky, 1998
U.S. Supreme Court, 2013
Numerous Pro Hac Vice Admissions in Indiana, Michigan, Pennsylvania, New York, Tennessee, Illinois, Idaho and Missouri