Overview
Carrie serves as co-chair of Reminger's Retail, Hospitality and Entertainment Facilities practice group, and focuses her legal practice in the areas of general liability, premises liability, medical and non-medical professional liability, insurance coverage and employment law. In addition, Carrie represents MFTs, LPCCs and LISWs in front of the Ohio Counselor, Social Worker and Marriage & Family Therapist Board.
Carrie is co-chair of Reminger's Women's Leadership Council and serves as a member of the firm's Management Committee.
Since joining Reminger in 2008, Carrie has litigated cases in state and federal court and has experience handling all aspects of litigation, including pre-suit investigation, pleadings, discovery, motion practice, trial preparation and trial. Carrie has also briefed and argued cases on appeal in Ohio, Kentucky and the Sixth Circuit Court of Appeals. In addition, Carrie has defended professionals and financial institutions in administrative proceedings in Ohio and Kentucky.
Carrie is very involved with the Chase College of Law, currently serving as an Adjunct Professor, volunteering for the Chase Alumni Council and previously having coached the school's Trial Advocacy Team. In addition, Carrie is a former member of the Board of Trustees of the Ohio Women's Bar Association and the Supreme Court Judicial Ratings Committee.
Carrie graduated magna cum laude from Northern Kentucky University in 2003. She then worked for Fidelity Investments until beginning law school in 2005. She obtained her Juris Doctorate Degree from Chase College of Law in 2008. While attending Chase she was selected for the National Trial Advocacy Team and also won first place and best brief at the Albert R. Mugel National Tax Moot Court Competition in 2007.
Honors & Recognitions
Recognized as a Rising Star by Ohio Super Lawyers Magazine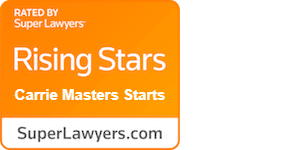 Community & Professional
Cincinnati Bar Association
Kentucky Bar Association
Ohio Women's Bar Association
Northern Kentucky Bar Association
Claims and Litigation Management Alliance
-Member
Results
For a more complete list of trial results, please contact attorney.
Feb 20, 2020

,

Motion For Summary Judgment Granted

Warren

The Court found that the condition (a box) was open and obvious and as such, defendant had no duty to warn related to it. The Court also briefly discussed the lack of notice as additional grounds to support summary judgment.

Jun 30, 2017

,

Summary Judgment Affirmed

Defense of wrongful death dram shop liability claim against bar/restaurant arising from fatal head-on automobile accident

Jan 25, 2017

,

Summary Judgment

Butler County

Plaintiff alleged to have slipped and fell as a result of a wet floor, alleging significant injuries and surgical repair and rehabilitation

Jan 4, 2017

,

Affirmance of District Court's Dismissal

U.S. Sixth Circuit Court of Appeals

Estate of James Barton vs. Hamilton County, NaphCare, et al.

Federal civil rights, medical malpractice and wrongful death action brought against Hamilton County jail, corrections officers and medical staff related to death of an inmate while in custody

Dec 30, 2015

,

Summary Judgment

United States District Court, Southern District of Ohio Western Division

Jul 10, 2015

,

Finding For Defendant

Hamilton

Arbitration defense of commercial services dispute

Dec 24, 2014

,

Judgment Affirmed

1st Appellate Dist

Hustler Cincinnati. Inc. v. Elm 411, LLC

Defendant appeals adverse trial court judgment awarding Plaintiff attorney fees.

Nov 14, 2014

,

Judgment Affirmed

1st Appellate Dist

V.R., a minor, et al. v. Cincinnati Hamilton County Community Action Agency

Plaintiff appealed adverse trial court judgment in multiple housing landlord tenant personal injury claim

Jul 3, 2014

,

Judgment Affirmed

2nd Appellate Dist

J. Johnson, et al., v. Wal-Mart Stores East, LP

Plaintiff appealed adverse trial court judgment in commercial premises liability personal injury claim

Apr 22, 2013

,

Defense Verdict

Hamilton

Defense of multiple commercial claim eviction action

Mar 21, 2013

,

Judgment Affirmed

U.S. District Court of Appeals, Sixth Circuit

Choices in Community Living, et al. v. Michael Petkus, Jr., et al.

Plaintiff appealed adverse trial court judgment in favor of real estate agent in claim of fair housing act disability discrimination case

Dec 5, 2012

,

Directed Verdict

Warren

Defense of attorney before Board of Commissioners on Grievance & Discipline

May 9, 2011

,

Judgment Affirmed

Warren

Leonard Brown v. Philadelphia Indemnity Insurance Co.

Plaintiff appealed adverse trial court judgment on single vehicle uninsured motorist claim alleging "corroborative evidence."

Apr 30, 2010

,

Judgment Affirmed

1st Appellate Dist

William Caruso v. National City Mortgage Company, et al,

Plaintiff appealed adverse trial court judgment against real estate appraisal on alleged negligent misrepresentation
News
News
Press Release

,

Dec 8, 2020

Press Release

,

Nov 27, 2019

Press Release

,

Dec 5, 2018

Press Release

,

Nov 12, 2018

Press Release

,

Dec 6, 2017

Press Release

,

Dec 2, 2016

Press Release

,

May 21, 2015

Press Release

,

Oct 27, 2014

Press Release

,

May 11, 2014

Press Release

,

Jan 27, 2014
Speaking Engagements
Trial Advocacy and Demeanor

Newport, KY

,

Nov 13, 2018

Best Practices in New Lawyer Training in Professional Liability

New York, NY

,

Sep 13, 2018

"Ethics of Social Media (Do's and Don't's)

ProSight Specialty claims and underwriting staff, Morristown, NJ

,

Apr 8, 2015

Directors & Officers Roles in Fashioning Preventive Remedies in the Employment Environment

Zurich Insurance FI, D&O and EPL Claim Department Seminar, New York, NY

,

Sep 30, 2014

The Multiple Facets of Insurance Agent and Titled Insurance Agent Claims and Liabilities

Prosight Specialty Seminar - Mt. Kemble, N.J.

,

Dec 18, 2012
Insights
Publications
Retail, Hospitality, and Entertainment Facilities Liability - Spring 2019 Newsletter

,

Apr 18, 2019

Cincinnati Employment Newsletter

,

Jan 2019

Legal Professional Liability Newsletter

,

May 12, 2017

Fall 2016 Employment Practices Liability Newsletter

,

Oct 26, 2016

Reminger Co., LPA Retail & Hospitality Newsletter Winter 2015

,

Feb 10, 2015

Published case: JanetM. Johnson v. Wal-Mart Stores East, LP  2014-Ohio-2998

,

Jul 3, 2014

What to Do When Your Employee Files a Complaint to the EEOC or CRC 

Reminger Employment Practices Newsletter - Spring 2013

,

Apr 15, 2013
Practice Areas
Education
J.D., Salmon P. Chase College of Law, 2008
National Trial Advocacy Team
National Moot Court Team
First Place and Best Brief, Albert R. Mugel National Moot Court Competition 2007
B.A., Northern Kentucky University, magna cum laude, 2003



Admissions
State of Ohio, 2008
U.S. District Court, Southern District of Ohio, 2008
Commonwealth of Kentucky, 2009
U.S. District Court, Western District of Kentucky, 2009
U.S. District Court, Eastern District of Kentucky, 2009
Commonwealth of Pennsylvania, 2012
U.S. Court of Appeals for the Sixth Circuit, 2013