Overview
Jennifer is an attorney with shareholder status who practices in Reminger's Cincinnati and Fort Mitchell offices. She focuses primarily in the areas of trucking and commercial transportation, general liability, products liability, and medical malpractice.
Jennifer has considerable civil litigation experience, having defended a wide variety of cases in federal and state court in Ohio and Kentucky. She has litigated cases from pre-suit through trial and mediation and has obtained a number of successful dismissals by dispositive motion. Jennifer has also successfully handled cases on appeal in both Ohio and Kentucky. Jennifer's commitment to excellence has been recognized by her peers, having been recognized as a Rising Star by Super Lawyers Magazine for the past several years.
Jennifer graduated from the University of Kentucky in 2006 with a double major in Political Science and Honors History, summa cum laude, before attending the University of Kentucky College of Law. A 2009 graduate, Jennifer was a participant in the American College of Trial Lawyers National Trial Competition and was awarded the CALI Award for Professional Responsibility. Jennifer was also published in the Kentucky Journal of Equine, Agricultural, and Natural Resources Law while at the University of Kentucky College of Law.
Honors & Recognitions
Published Note in Kentucky Journal of Equine, Agricultural, and Natural Resources Law, 2009: "Reining in the Horse Racing Industry: A Proposal for Federal Regulation of Steroid Use in Racehorses"
CALI Award, Professional Responsibility, Spring 2008
Top Advocate, University of Kentucky College of Law Trial Advocacy Board Competition, 2007
Recognized as a Rising Star by Kentucky Super Lawyers Magazine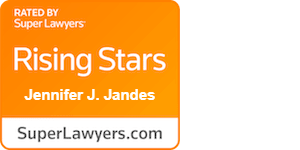 Community & Professional
Ohio State Bar Association
Kentucky Bar Association
Cincinnati Bar Association
Northern Kentucky Bar Association
Commerce Lexington EMERGE Steering Committee Member
Results
For a more complete list of trial results, please contact attorney.
Apr 25, 2023

,

Motion To Dismiss

Hamilton County Court of Common Pleas

Motion to Dismiss granted in medical malpractice and negligence case asserted against correctional medical provider for the wrongful death of inmate. This matter was already litigated and decided in client's favor in the federal court, but was re-filed by the Plaintiff in state court. We moved to dismiss based upon statute of limitations and other affirmative defenses.

Dec 19, 2022

,

Motion For Summary Judgment

Brown

Summary judgment granted in favor of our agricultural supply company client in a case involving alleged catastrophic damage to a vineyard and winery. Plaintiffs alleged that our client improperly sprayed an herbicide on an adjacent soybean field, and that the chemical improperly drifted onto their vineyard.
News
News
Super Lawyers Magazine

,

Dec 30, 2021

Press Release

,

Dec 8, 2020

Press Release

,

Nov 27, 2019

Press Release

,

Dec 5, 2018

Press Release

,

Jan 4, 2018

Press Release

,

Dec 6, 2017
Education
J.D., University of Kentucky College of Law, 2009
-National Trial Advocacy Team
-Kentucky Journal of Equine, Agricultural, and Natural Resources Law
B.A., University of Kentucky, summa cum laude, 2006
Admissions
Commonwealth of Kentucky, 2009
U.S. District Court, Eastern District of Kentucky, 2010
U.S. District Court, Western District of Kentucky, 2010
State of Ohio, 2018
U.S. District Court, Southern District of Ohio, 2020