Overview
Zachary B. Pyers is a Partner in the Columbus, Ohio, office of Reminger Co., L.P.A., and actively practices throughout Ohio and West Virginia. His practice focuses on civil litigation, including complex and class action litigation, corporate and commercial litigation, professional liability, and catastrophic loss. He represents clients in commercial disputes, including: breach of contract claims; anti-trust actions; covenants not to compete; and, business torts. In his professional liability practice, Zach represents: attorneys; accountants; architects; engineers; surveyors; builders; real estate brokers and agents; insurance brokers and agents; directors and officers; and, investment advisors in litigation and licensure proceedings. Zach also practices in the area of emerging technologies, having written and spoken extensively on the intersection of tort law with advancing technologies and changing business models.
Zach is actively engaged in the community. He serves on several Boards and in leadership roles within legal and community associations.  He is an Adjunct Professor at Capital University Law School, where he teaches courses in Depositions, E-Discovery, Expert Witnesses, Ridesharing and Autonomous Vehicle Litigation, and the school's Mock Trial Competition team. Zach also co-hosts the firm's podcast, The Reminger Report Podcast: Emerging Technologies.
Representative Experience
Successfully represented and resolved federal Sherman Anti-Trust Act claims against companies for alleged concerted efforts.
Obtained summary judgment for trade association on Ohio anti-trust claims. Results were upheld on appeal.
Obtained dismissal for attorney client in a legal malpractice action, where the underlying action stemmed from foreign-based financial instruments.
Obtained dismissal of legal malpractice claims against an AM law 200 firm and firm's partner, stemming from underlying claims surround a corporate transaction.
Successfully resolved traumatic brain injury claims against pharmaceutical company.
Successfully represented an individual on liability claims from the alleged improper importation of exotic vehicles.
Successful representation on numerous matters for insurance agents who have allegedly failed to secure adequate coverage for catastrophic losses.
Obtained summary judgment on behalf of non-profit client against former Board members' breach of fiduciary duties and fraudulent actions.
Obtained dismissal on behalf of landlord on underlying claims of mold exposure in rental property.
Obtained dismissal of claims against extermination company relating to allegations of pesticide exposure.
Obtained motion for summary judgment against legal malpractice claims asserted against a guardian ad litem.
Successfully defended numerous design professionals and/or contractors in construction litigation matters.
Obtained defense verdict at trial against claims that a vehicle was wrongfully repossessed and a breach of the peace.
Obtained a defense verdict in favor of physicians who performed a laparoscopic supracervical hysterectomy.
Obtained defense verdict at trial for government entity on breach of contract claims.
Obtain trial verdict in favor of trucking company stemming from motor vehicle accident.
Obtained defense verdict in an admitted liability wrongful death case in favor transportation company.
Honors & Recognitions
Recognized in The Best Lawyers in America® for Commercial Litigation
2019 Ohio Association of Civil Trial Attorneys Outstanding Young Lawyer Award
2018-2020 Top Lawyers Central Ohio, Columbus CEO Magazine
2016 Young Alumnus of the Year, Capital University Law School
AV Preeminent® Rated with Martindale-Hubbell® Peer Review Ratings™



Recognized as a Rising Star by Ohio Super Lawyers Magazine

Community & Professional
American Bar Association
Federal Bar Association
Ohio State Bar Association
Ohio State Bar Foundation
-Fellow
American Bar Foundation
-Fellow
District of Columbia Bar Association
Columbus Bar Association
Defense Research Institute
Ohio Association of Civil Trial Attorneys
Claims & Litigation Management Alliance
Ohio University, College of Business, Society of Alumni and Friends
-President
Capital University Law School Alumni Board
-Board Member
Litigation Counsel of America
-Associate Fellow
Capital University Law School, Adjunct Professor
Ridesharing and Autonomous Vehicle Litigation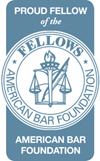 Results
For a more complete list of trial results, please contact attorney.
Jun 20, 2023

,

Motion for Summary Judgment Granted

Miami County Court of Common Pleas

Motion for summary judgment granted in favor of a large commercial real estate entity.

Nov 14, 2022

,

Appeal Dismissed

4th Appellate Dist

Defense of an insurance broker who secured insurance for a chemical storage tank manufacturer. The tank manufacturer was sued by four plaintiffs alleging injury from exposure to benzene via their faulty tanks with alleged exposure dating back to the 1970's and 1980's.

Franklin County Court of Common Pleas

Defense of large national real estate broker regarding a Creditor's Bill Complaint against the broker's real estate agent and the broker, seeking a non-wage garnishment of the agent's real estate commissions.

Franklin

Defense of conversion vehicle repossession

Apr 1, 2014

,

Judgment Affirmed

U.S. District Court of Appeals, Sixth Circuit

LaBorde v. City of Gahanna and RITA

Plaintiff appealed governmental liability class action claim against City and Regional Income Taxing Authority based on constitutional rights regarding computation of City income tax credit.

Allen

Defense of medical malpractice laparoscopic hysterectomy

Dec 3, 2010

,

Favorable Outcome

Franklin

Defense of dental malpractice claim

Nov 16, 2010

,

Judgment Affirmed

10th Appellate Dist

Richard Weldon, et al. v. Prairie Township, et al.

Plaintiff appealed adverse trial court judgment in claim for damages arising out of township's independent contractor work.

Franklin

Arbitration defense of property damage governmental liability claim arising out of youth athletic organization.

Aug 16, 2010

,

Plaintiff Verdict

Franklin

Arbitration prosecution and defense of trucking liability property damage claim.

Franklin

Defense of wrongful dealth commercial transportation admitted liability claim

Nov 19, 2009

,

Plaintiff Verdict

U.S. District Court, Southern District of Ohio

Defense of entertainment commercial premises liability, personal injury claim involving multiple fractures.

Franklin

Arbitration defense of property damage trucking liability claim
News
News
Super Lawyers Magazine

,

Dec 30, 2021

Press Release

,

Oct 19, 2020

Press Release

,

May 11, 2020

How to Effectively Use Depositions in Trial

Clear Law Institute

,

Mar 11, 2020

Jury Selection – Advanced Techniques

Law Practice Association CLE Webinar

,

Feb 4, 2020

Press Release

,

Nov 26, 2019

Press Release

,

May 22, 2019

Press Release

,

Mar 21, 2018

Press Release

,

Dec 6, 2017

Press Release

,

Aug 8, 2017

Press Release

,

Dec 2, 2016

The Columbus Dispatch

,

Aug 30, 2016

Press Release

,

Jun 24, 2016

Press Release

,

Apr 22, 2016

Press Release

,

Dec 2, 2015

Capital University Law School Press Release

,

Nov 10, 2015

Press Release

,

Dec 3, 2014

Press Release

,

Nov 18, 2014

Press Release

,

Feb 14, 2014

Press Release

,

Dec 5, 2013
Speaking Engagements
National Business Institute

,

May 31, 2023

Litigation Strategies or Neutralizing Anger in Settlement Negotiations in Jury Trial

The Strafford Group

,

Mar 9, 2022

How to Avoid and Correct Attorney or Expert Mistakes

Jury Selection: Advanced Techniques

Mastering Uber, Lyft, and Ride Sharing Law

Columbus, OH

,

Aug 21, 2019

Depositions of Corporate Representatives

Columbus, OH

,

Jun 19, 2019

Depositions of Corporate Representatives

Jury Selection: Advanced Techniques

Arlington, VA

,

Apr 30, 2019

Ride Sharing Liability and Injury Cases: Uber/Lyft and Liability

Columbus, OH

,

Mar 28, 2019

Advanced Auto Injury Claims: Collecting Social Media, Texts, Smart Phone Evidence and More

Columbus, OH

,

Mar 6, 2019

Initial Filing and Discovery in an Auto Injury Litigation

Columbus, OH

,

Dec 9, 2018

Jury Deselection

Columbus, OH

,

Nov 2, 2018

Defendant's View of Jury Selection

Cleveland, OH

,

Sep 24, 2018

How to Deal with Difficult Counsel – Professionally

National Webinar

,

Aug 14, 2018

Uber Lyft and Litigating Ride-sharing Cases

Liens and Subrogation and Preserving and Collecting Social Media, Text, Smartphone Evidence

Columbus, OH

,

Jun 21, 2018

Top Civil Trial Pitfalls

Columbus, OH

,

Jun 14, 2018

Eliminating/Minimizing Liens in Personal Injury Settlements

Columbus, OH

,

May 1, 2018

Jury Selection – Advance Techniques

Arlington, VA

,

Apr 17, 2018

Top Civil Trial Pitfalls

Practical Application of E-Discovery and Document Review

Columbus, OH

,

Jul 31, 2017

Legal Professionalism 101

Columbus, OH

,

Jul 18, 2017

Advanced Auto Accident Litigation

Columbus, OH

,

Jul 12, 2017

Ethics in Insurance Bad Faith Claims

E-Discovery and Bankruptcy

Columbus, OH

,

May 3, 2017

Effective Case Presentation at Trial – Exhibits

Columbus, OH

,

Mar 23, 2017

The Doctor Under Cross Examination in Deposition

Columbus, OH

,

Mar 7, 2017

Satisfying Liens in Personal Injury Settlements

Columbus, OH

,

Jan 12, 2017

Effective Use of Courtroom Technology and Legal Ethics

Columbus, OH

,

Dec 14, 2016

Professionalism – The Attorney's Obligation to the Client, the Court, and Other Parties

Columbus, OH

,

Nov 30, 2016

Using Expert Witnesses to Get Your Evidence In (and Keep Theirs Out)

Columbus, OH

,

Oct 31, 2016

Partnership with Capital University's Law School: Deposition and Discovery Clinic

Columbus, OH

,

Oct 7, 2016

Structuring, Funding an Administration of Liens – Pitfalls and Pointers

Columbus, OH

,

Aug 20, 2016

Finding the "Right" Technical Assistance in responding to E-discovery

Columbus, OH

,

Aug 4, 2016

Medicare Compliance and ERISA Liens

Columbus, OH

,

Jun 23, 2016

Deposition in Personal Injury Litigation Start to Finish

National Business Institute CLE, Columbus, OH

,

Apr 21, 2016

Professionalism for Young Lawyers

Ohio Chapter of Federal Bar Assn. Capitol University, Columbus, OH

,

Feb 23, 2016

Ethical Issues andnSettlement Negotiations

National Business Institute, Cleveland, OH

,

Nov 19, 2015

Advanced Subrogated Lien Interests

National Business Institute CLE, Columbus, OH

,

Nov 17, 2015

Preparing for and Conducting Effective Depositions

Capital University Law School Curriculum, Columbus, OH

,

Oct 8, 2015

Medicare/Liability Insurance and the Relation Between Them in Personal Injury Cases.

Insurance Law Committee - Ohio State Bar Assn. CLE, Columbus, OH

,

Aug 21, 2015

Personal Injury Claims: The Insurance Defense Perspective

National Business Institute CLE, Columbus, OH

,

Aug 17, 2015

Satisfying Liens in Personal Injury Settlements

National Webinar – National Business Institute, Cleveland, OH

,

Jul 31, 2015

Medicare Secondary Payor Act: Implications and Impact on Litigation -  2015 Perspective

Knowledge Group National Seminar, Columbus, OH

,

Jun 24, 2015

Damages, Liens and Subrogation in Settlement Negotiations

National Business Institute CLE, Columbus, OH

,

Dec 19, 2014

Getting What is Needed from Direct Examination

Capital University Law School Faculty and Students

,

Oct 22, 2014

What Medicare and Medicaid Reporting is Expected of You in a Third Party Liability Settlement

National Institute of Medicare and Medicaid Education Conference, Chicago, Illinois

,

Sep 30, 2014

Ethical Considerations When Handling Medicare Set-Asides

National Business Institute CLE Seminar, Cleveland, OH

,

Sep 19, 2014

Medicare Secondary Payer Compliance: New Requirements 

National Business Institute CLE Seminar, Akron, OH

,

Sep 18, 2014

A Primer for Medicare/Medicaid Rx Component, Mandatory Insurer Reporting Compliance and Set Aside Agreements

National Institute of Medicare/Medicaid Education Conference - Boston, MA

,

Jun 30, 2014

Deposition Dos and Don'ts

Ohio State Bar Assn. Annual Convention, Columbus, OH

,

May 1, 2014

Reporting Entities under the Medicare Secondary Payer Act

National Business Institute for Medicare/Medicaid Education, New Orleans

,

Mar 26, 2014

Lien Resolutions

National Business Institute CLE Seminar - Akron, OH

,

Sep 26, 2013

The Medicare Super Lien and Other Liens Simplified

National Business Institute CLE - Columbus, OH

,

Jul 26, 2013

Medicare and Medicaid Required Claim Payment Reporting

National Institute for Medicare and Medicaid Education Conference - Boston, MA

,

Jun 24, 2013

Claims Management and Tort Reform Limitations

Big Lots CEU Institute - Columbus, OH

,

May 18, 2011

'Are you in compliance with the Medicare Secondary Payor Act?'

Proper Medical Documentation and Patient Consent Issues
Insights
Publications
International In-House Counsel Journal

,

Aug 9, 2023

OACTA Quarterly Review

,

Feb 2023

Capital University Law Review

,

Nov 14, 2022

Columbus Bar Association Legal Connections

,

Jan 21, 2022

American Bar Association The Brief

,

Aug 25, 2021

Columbus Bar Association Legal Connections

,

Jun 11, 2021

The Legal Intelligencer

,

May 24, 2021

Ohio Association of Civil Trial Attorneys Quarterly Review

,

Nov 2020

American Bar Association

,

Oct 30, 2020

Buried in Paper: Dealing with Aggressive Discovery

The Columbus Bar Association

,

Aug 7, 2020

Detangling Liablity in Ridesharing Accidents

King County Bar Association Bar Bulletin

,

May 2019

American Bar Association, Section of Litigation, The Young Advocates Newsletter

,

Jan 2017

Capital University 2016 Spring Magazine

,

Apr 2016

Best Practices of Taking a Doctor's Deposition

Capital University Spring 2016 Magazine

,

Apr 8, 2016

Introduction of Medicaid's Super Lien and Other Recovery Efforts

Columbus Bar Association Quarterly

,

Feb 12, 2015

Introduction to Medicaid's Super Lien as Created by Affordable Care Act

Columbus Bar Association's Lawyers Quarterly Summer 2014 edition

,

Jul 11, 2014

Professionalism for Young Lawyers

Ohio Association of Civil Trial Attorneys The Update - Spring 2014

,

Apr 23, 2014

AIG Legal Insights Newsletter - Spring 2014

,

Apr 22, 2014

Winter 2014 Columbus Bar Quarterly

,

Jan 21, 2014

Ohio Supreme Court Distinguishes Real Party in Interest from Standing to Sue Requirements 

Ohio State Bar Assn. Litigation News

,

Jun 7, 2013

Contributor and Editor: The Law & You, 14th Edition (in publication), chapters entitled Torts and The Lawyer, a publication by the Ohio State Bar Association
Reminger Reports
Notice of Default Contents Crucial Prior to Foreclosure by Lender

Appealability of Arbitration Court Orders
Education
LL.M., Business, Capital University Law School, 2009
J.D., Capital University Law School, cum laude, 2008
B.B.A., Ohio University, 2005
Admissions
State of Ohio, 2008
U.S. District Court, Southern District of Ohio, 2009
U.S. District Court, Northern District of Ohio, 2009
U.S. Court of Appeals, Sixth Circuit, 2009
District of Columbia, 2009
State of West Virginia, 2015
U.S. District Court, Southern District of West Virginia, 2015
U.S. Court of Appeals, Fourth Circuit, 2015
U.S. District Court, Northern District of West Virginia, 2018