Overview
Russ is a shareholder and chair of Reminger's Guardianships practice group and Mediation/Arbitration practice group. He has been an attorney with Reminger since 1988.
Russ is frequently called on to handle disputes between next-of-kin, beneficiaries, guardians, and executors. These disputes include, but are not limited to, will contests, declaratory judgments to invalidate a trust agreement or amendment, joint with rights of survivor or payable on death disputes, transfer on death beneficiary disputes, guardianship appointments or terminations, fraudulent uses of powers of attorney, and any and all cases regarding a probate or non-probate financial misuse regarding a decedent or elder clients.
He has been invited to speak on behalf of many organizations on issues that range from probate administration to undue influence and incompetency claims to guardianships and guardianship litigation. Russ is very dedicated to the fight against opioid abuse as a board member of The K.I.S.S. Foundation and President of Fight the Urge, Inc., as well as an active speaker on the topic.
Russ has also served as an assistant prosecutor for the cities of Willowick, Willoughby Hills, and the Village of Waite Hill. He currently serves as a prosecutor for Lake Metroparks and has done so since 2000. His experience as a magistrate and law clerk for the Lake County Probate Court in the early 1980's provided invaluable experience to him as to how probate courts analyze cases in the areas of probate and elder law.
Honors & Recognitions
Recognized as a Super Lawyer by Ohio Super Lawyers Magazine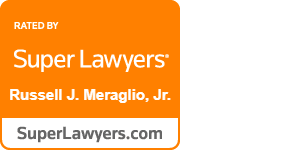 Listed in Best Lawyers of America for Litigation-Trusts and Estates, since 2012


Rated AV® Preeminent™: Very Highly Rated in Both Legal Ability and Ethical Standards by Martindale Hubbell Peer Review

Community & Professional
Ohio State Bar Association
-Member, Probate and Trust Section
Lake County Bar Association
-Member, Probate Law Committee, Settlement Week (Co-Chair)
Cleveland Metropolitan Bar Association
-Member, Estate Planning, Probate & Trust Law Section
K.I.S.S. Foundation
-Board Member
Fight the Urge, Inc.
-President
Lake County Board of Mental Retardation/Developmental Disabilities
-Past President, 2002
-Past Vice-President, 2001
Lake Metroparks Prosecutor, 2000-current
Justinian Forum Member
Wickliffe Italian American Club
-Parliamentary Committee Member
Results
For a more complete list of trial results, please contact attorney.
U.S. District Court, Northern District of Ohio

Defense of an attorney-trustee in trust lawsuit. The Federal Court dismissed the Plaintiff's federal lawsuit on res judicata grounds.

Oct 13, 2020

,

Motion to Dismiss Granted

United States District Court for the Northern District of Ohio

Plaintiff Beneficiary has been litigating for years in state court over Plaintiff's parents' estate plan with varied results. Presumably dissatisfied with the rulings in state probate court, Plaintiff tries to bring new suit against Trustee in Federal Court which has limited subject matter jurisdiction. Trustee client successfully moved the Court to abstain or defer to multiple state court proceedings where all parties represented before a single probate judge. Federal Court stayed proceedings before it pending outcome of state probate and appellate matters.

Jun 15, 2012

,

Judgment Affirmed

11th Appellate Dist

T. Grzely v. M. Lucas-Singer,fka Grzely, et al.

Claimant heir appeals adverse trial court judgment denying life insurance proceeds from decedent

Jul 29, 2011

,

Judgment Affirmed

11th Appellate Dist No. 2010-L-075

Estate of Marion Ryan

Plaintiff appeals adverse trial court judgment in will contest claim.

Jul 26, 2011

,

Judgment Affirmed

11th Appellate Dist

Sharon Mastro v. Jane Glavan, Extrx. Of E/O Norman Hanslik, et al

Plaintiff appeals adverse trial court judgment rejecting their claim of will invalidation.
News
News
Super Lawyers Magazine

,

Dec 30, 2021

Press Release

,

Dec 8, 2020

Press Release

,

Aug 20, 2020

Press Release

,

Nov 27, 2019

Press Release

,

Aug 15, 2019

Press Release

,

Dec 5, 2018

Press Release

,

Nov 12, 2018

Press Release

,

Aug 15, 2018

Press Release

,

Jun 22, 2018

Press Release

,

Dec 6, 2017

Press Release

,

Aug 15, 2017

Press Release

,

Apr 26, 2017

Press Release

,

Dec 2, 2016

Press Release

,

Aug 15, 2016

Press Release

,

Dec 2, 2015

Press Release

,

Aug 17, 2015

Press Release

,

Dec 3, 2014

Press Release

,

Aug 18, 2014

Press Release

,

Dec 5, 2013

Press Release

,

Apr 12, 2013

Press Release

,

Aug 24, 2012

Press Release

,

Aug 31, 2011
Speaking Engagements
Columbus Bar Association

,

Dec 15, 2022

Elder Law, Guardianships and Probate Administration

Painesville, OH

,

Sep 13, 2018

Overview of Estate and Guardianship Administration, Probate Litigation, Powers of Attorney

Painesville, OH

,

Sep 14, 2017

Current Developments and Land Sale Actions, Superintendents Rule 66, and Rights of the Ward in Guardianships.

Lake County Probate Court, Painesville, OH

,

Jun 7, 2016

Rights, Needs and Responsibilities in Handling Guardianships in Ohio

Ohio Judicial Conference – Lake County Probate Court, Painesville, OH

,

Feb 19, 2016

Fundamentals of Adult Guardianships and Guardianship Rule 66

Supreme Court of Ohio Judicial College, Columbus, OH

,

Oct 30, 2015

Estate Administration, Litigation, Guardianships and Powers of Attorney for the Senior Citizen

Lake County Council of Aging Senior Day, Painesville, OH

,

Sep 16, 2015

The New Manual on Adult Guardianships – Supreme Court Rule 66

Lake County Council on Aging, Painesville, OH

,

Aug 28, 2015

Guardianships and Pre-need Funerals and Claims Against Estates

Northeast Ohio Chapter of Funeral Home Directors Assn., Madison, OH

,

Jun 9, 2015

Advanced Directives in Probate Practice

Ohio Probate Court Associations of Ohio Webinar

,

Nov 19, 2014

Nuts & Bolts of Guardianship from the Practitioner's Standpoint

Lake County Bar Association Probate Court CLE Seminar, Painesville, OH

,

May 22, 2014

Civil Actions – Land Sales and Concealment of Assets for in Guardianships

Ohio State Bar Association Guardianship Seminar - Cleveland, OH

,

Sep 19, 2013

Durable Powers of Attorney for Healthcare, Living Wills and Physician Liability Acting Upon Advanced Directives

2013 Medical/Legal Summit of Northeast Ohio - Cleveland, OH

,

Apr 13, 2013

Medical/Legal Summit

Avoiding Probate Litigation

Boy Scouts of America Annual Estate Planning Seminar - Cleveland, OH

,

Sep 12, 2012

Lake County Probate Court Guardianship Seminar - Painesville, OH

,

Jun 1, 2012

Lake County Probate Court Senior Citizens Seminar - Painesville, OH

,

Mar 27, 2012

Guardianship Seminar

Guardianship Training Seminar

Seventh Annual Estate Planning Seminar

Ethics, Professionalism, Substance Seminar

Basics of Estate Administration

Recent Developments in Probate Law

Case Law Update - Probate and Trust

Lake County Bar Assn. CLE Seminar - Painesville, OH

,

Feb 20, 2012

Guardianships and Ethics in Representing an Elderly Client

Elder Law Seminar – Sterling Educational Services - Cleveland, OH

,

Nov 2, 2011

Estate Litigation and Guardianships

Senior Citizen Appreciation Day – Lake County Probate Court - Painesville, OH

,

Sep 15, 2011

Internet Research: Legal Research Seminar

Probate Seminar

Elder Law: Legal, Financial Seminar

Probate and Trust Seminar

Estate Administration, Estate Planning and Estate Disputes - Senior Citizens Day

Painesville, OH

,

Sep 16, 2010

Ethics, Professionalism and Substance Seminar

Meet Your Judge Seminar

View from the Bench Seminar

Concealment of Assets and Guardianships

Civil Actions in Probate including Land Sales, Concealment of Assets and Surcharge Actions

Civil Cases in Probate

Joint Ownership with Rights of Survivorship "assets"

Powers of Attorney and Self Dealing (Harmless Heir Statute)

Guardianship Update Seminar

Elder Law Seminar

Estates and Mediation Seminar

Probate Seminar

From File to Trial Seminar

Guardianships (Legal, Financial and Healthcare) Issues

Developments in Probate Law

2008 Lake County Bar Association Probate CLE Seminar

,

Nov 11, 2008

Guardianship Documentation to the Senior Citizens, Lake County Probate Court-CLE Seminar

Painesville, Ohio

,

Sep 16, 2008

Inventory, Assets, and Debts of an Estate, Ohio State Bar Association Young Lawyers CLE

Cleveland, Ohio

,

Jun 11, 2008

Basics of Estate Administration

Probate Seminar

State of Probate Case Law & Statutory Law, Lake County Bar Association Annual Probate Real Estate Seminar

Mentor, Ohio

,

Nov 12, 2007

Ethical Considerations & Fiduciary Relationships in the Area of Guardianships, Ohio State Bar Association Forum CLE

Cleveland, OH

,

Sep 19, 2007

Legislative Update and Ohio Law for Probate Magistrates and Judges, Ohio Association of Magistrates

Cleveland, Ohio

,

Apr 27, 2007

Guardian and Volunteer Visitor Seminar

Ethics, Professionalism and Substance Seminar

Basics of Estate Administration

Ethics, Professionalism and Substance Seminar

Ohio Association of Magistrate Seminar

Probate and Real Estate Seminar

Annual Probate and Mental Health Seminar

Inventory & Assets and their Litigation Basis, Estate Administration Section-Ohio State Bar Assn.

Cleveland, Ohio

,

Feb 23, 2007

Probate and Real Estate Seminar

3rd Annual Probate Law and Mental Seminar

Probate and Real Estate Seminar

Estate & Business Succession Planning Seminar

Annual General Practice Update

Basics of Estate Administration Seminar

Annual General Practice Update

Probate Law and Mental Health Seminar

Annual Child Custody Seminar

Ohio State Bar Association 18th Annual Meeting

Police Liability

Basics of Estate Administration Seminar
Insights
Publications
Lake County Common Pleas Court Settlement Week Headed by Reminger

Lake Legal Views, Vol. 36 No. 10 - October 2012

,

Oct 16, 2012
Blog Posts
Estate and Trust Dispute Center of Ohio

,

Dec 30, 2021

Estate and Trust Dispute Center of Ohio

,

Sep 1, 2021

Estate and Trust Dispute Center of Ohio

,

Apr 24, 2020

Estate and Trust Dispute Center of Ohio

,

Aug 15, 2017
Practice Areas
Education
J.D., Cleveland State University College of Law, 1983
B.A., Baldwin-Wallace College, 1979
Admissions
State of Ohio, 1983
U.S. District Court, Northern District of Ohio, 1983