Overview
Brittany is a shareholder in Reminger's Toledo office. She focuses her practice on professional liability, workers compensation, general casualty/excess surplus lines, long-term care liability, insurance/bad faith liability , and trucking and commercial transportation. Brittany has extensive experience in both state and federal courts, including the appellate level. She also represents clients before administrative agencies, such as the U.S. Equal Employment Opportunity Commission and the Ohio Civil Rights Commission.
Brittany's clients are businesses and the people operating them. She knows that the owners and employees perform their jobs with integrity and need diligent representation in defense of claims against their policies, principals, and performance. Her clients trust her to identify the strengths and weaknesses of their claims and she truly believes attorneys are counselors at law.
Brittany's past litigation experience includes labor and employment litigation, criminal defense, and probate and trust litigation. She previously served as a coach for the University of Toledo's Trial Advocacy Team as well as the St. Mary's Catholic Central High School Mock Trial Team in Monroe, Michigan.
Honors & Recognitions
Recognized by The Best Lawyers in America: Ones to Watch for Insurance Law

Order of the Barristers, 2013
Recognized as a Rising Star by Ohio Super Lawyers Magazine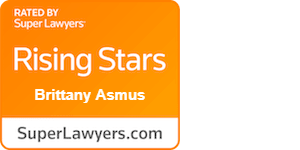 Community & Professional
Monroe County Bar Association
Michigan State Bar Association
Ohio State Bar Association
Toledo Bar Association
Toledo Women's Bar Association
Results
For a more complete list of trial results, please contact attorney.
Sep 2023

,

Administrative Charge Dismissed

EEOC

Defended nursing services provider against claim of employment discrimination based on sex and pregnancy. Claim was investigated and dismissed by the EEOC.

Sep 8, 2023

,

Motion for Judgment on the Pleadings

Lucas County Court of Common Pleas

Plaintiff alleged claims of legal malpractice, fraud, civil conspiracy, IIED, and unlawful acts intended to violated plaintiff's 4th, 5th, and 6th amendment rights related to our client's legal representation of Plaintiff. Plaintiff filed his claims outside of the 1 year statute of limitations for legal malpractice and all related claims were subsumed into the legal malpractice claim and were barred as untimely.

Aug 14, 2023

,

Motion to Dismiss Granted

Lucas County Court of Common Pleas

Defended social services organization against claims of violating rights under HIPAA, violating FOIA, making a false police report, and violating civil rights. Plaintiff's claims were dismissed for failing to state a valid claim as required by the civil rules.

Jul 18, 2023

,

Motion for Summary Disposition Granted

Michigan, 36th District Court

Plaintiff claimed negligence causing property damage resulting from a tree being blown over from her neighbor's property onto her personal vehicle.

Dec 19, 2022

,

Motion for Summary Judgment Affirmed

6th Cir. Court of Appeals

Plaintiff/Appellant claimed her employer discriminated against her based on race and retaliated against her for reporting discrimination based on race and sex by terminating her.

United States District Court for the Eastern District of Michigan

Motion for summary judgment granted in favor of our manufacturing and distribution logistics client against Title VII violation claims of racial discrimination and retaliation.

Sep 9, 2021

,

Summary Judgment Granted

U.S. District Court for the Northern District of Ohio, Western Division

Defense of claim alleging negligence resulting in knee injury on premises of big box retailer.

Aug 3, 2021

,

Summary Judgment Granted

Toledo Municipal Court

Defense of nursing home facility against claim of intentional infliction of emotional distress for its efforts to collect on a past-due account.

May 12, 2021

,

Dismissal and Notice of Rights

Detroit, MI

Represented staffing agency in claim of sex discrimination and retaliation.

May 10, 2021

,

Dismissal and Notice of Rights

Detroit, MI

Represented car dealership in charge alleging discrimination based on race, sex and retaliation.

Apr 27, 2021

,

Motion to Dismiss Granted

39th Circuit Court, Lenawee County, MI

Defense of claim of breach of contract and contribution on long-term care contract.

Feb 26, 2021

,

Dismissal with Prejudice

Lucas County Court of Common Pleas

Plaintiff claimed mental health agency performed deficient psychiatric exam resulting in his incarceration, defamation, and emotional distress.

Feb 3, 2021

,

Dismissal and Notice of Rights

Detroit, MI

Represented factory in in charge alleging age discrimination.

Jun 30, 2020

,

Judgment Affirmed

6th Appellate Dist

Plaintiff appealed granting of summary judgment in claimed employment discrimination based on disability and retaliation for request an accommodation.

Ohio Civil Right Commission – Toledo, OH

Represented staffing service company in charge alleging discrimination based on race, sex and retaliation.

Aug 2, 2019

,

Directed verdict affirmed on appeal

Lucas

Plaintiff/Appellant appealed a directed verdict dismissing all Defendants as Plaintiff failed to prove both defendants were liable of tortious conduct as required to apply the doctrine of alternative liability.

Apr 29, 2019

,

Summary Judgment Affirmed on Appeal

Wood

Plaintiff/Appellant claimed she slipped and fell on spilled sour cream in the cooler section at Dollar General and incurred injury.

OCRC

Represented staffing service company in charge alleging termination as result of a disability.

Toledo

Arbitration defense of personal injuries related to negligent application of cosmetics by an employee.

Wood

Defense of premises liability personal injury claim

Sep 20, 2018

,

Directed Verdict

Lucas County Court of Common Pleas

Defense of personal injury and property damage claim and alleged negligence, assault and battery and conversion.

Lucas

Defense of commercial auto liability personal injury claim

Lima Municipal Court

Arbitration defense of negligent installation causing damage to real property

Ohio Civil Right Commission – Toledo, OH

Defense of gender discrimination and retaliatory discharge by former employee

Lucas

Prosecution of divorce and custody dispute

Lucas

Arbitration defense of medical device (rolling walker) product liability personal injury claim (Nixon & Co.)

Lucas

Arbitration defense of property damage claim against media service supplier

Lucas

Arbitration defense of products personal injury liability claim

Henry

Arbitration defense of commercial services property damage liability claim

Allen

Defense of catastrophic cardiothoracic surgical negligence case
News
News
Super Lawyers Magazine

,

Dec 30, 2021

Toledo Business Journal

,

Nov 2021

Press Release

,

Dec 8, 2020

Press Release

,

Nov 27, 2019

Press Release

,

Dec 5, 2018

Press Release

,

May 2, 2016
Speaking Engagements
Community Memorial Hospital

,

Oct 7, 2022
Practice Areas
Education
J.D., University of Toledo, cum laude, 2013
Master of Science, American University, 2009
Bachelor of Arts, Psychology, Ohio Wesleyan University, 2005
Admissions
State of Michigan, 2013
State of Ohio, 2016
U.S. District Court, Northern District of Ohio
U.S. District Court, Eastern District of Michigan
U.S. Court of Appeals, Sixth Circuit