Overview
Rick is a shareholder with Reminger Co. L.P.A. Rick has concentrated his legal practice in the areas of legal malpractice and medical malpractice, and he has completed over 50 jury trials. His 'first-chair' trial experience and rate of success sets him apart in the legal community.
Rick also has significant practices in Indiana and Kentucky. Rick joined the firm with years of experience as a Special Agent with the Federal Bureau of Investigation. Rick utilizes the skills and tactics he learned as a Special Agent to fully investigate and defend his clients' interests in all aspects of litigation.
As a result of his dedication to his clients and his courtroom skill, Rick has received a number of significant honors specific to his prowess as an attorney.
Honors & Recognitions
Recognized in The Best Lawyers in America® 2022 for Criminal Defense: White-Collar and Medical Malpractice Law- Defendants

Recognized as a Rising Star by Ohio Super Lawyers Magazine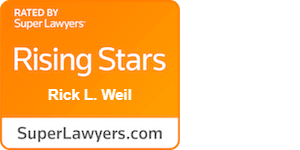 AV Preeminent Rating - the "Highest Possible Rating in both Legal Ability & Ethical Standards" 2011-2020
Community & Professional
Ohio State Bar Association
Cincinnati Bar Association
Results
For a more complete list of trial results, please contact attorney.
Nov 7, 2022

,

Unanimous Defense Verdict

Hamilton County, Indiana

Obtained a unanimous defense verdict in favor of psychiatrist against medical malpractice claims related to the prescription of an antipsychotic drug.

Hamilton

Defense of surgical medical negligence, lack of informed consent, battery, and fraud.

Defense verdict in a medical malpractice case in the Hamilton County Common Pleas Court, stemming from multiple spine surgeries performed on Plaintiff.

Hamilton County Common Pleas Court

Hamilton

Defense of orthopedic medical malpractice claim

Hamilton

Defense of orthopedic medical malpractice claim.

Hamilton

Defense of medical malpractice claim alleging unnecessary spinal fusion and decompression.

Jul 27, 2017

,

Judgment on Counterclaim

Preble

Defense of property damage subrogation trial

Hamilton Cty., IN

Defense of gastroenterologist medical malpractice claim

Marion

Defense of surgical gastroenterology medical malpractice claim

Deerborn, IN

Defense of catastrophic medical malpractice claim

U.S. District Court, Southern District of Ohio

Defense of 1983 civil rights claims in using excessive force, illegal seizure and malicious prosecution.

Aug 23, 2013

,

Judgment Affirmed

1st Appellate Dist

Louis Manchise vs. Steven Ionnia, M.D., et al

Plaintiff appealed adverse trial court judgment in medical malpractice claim

Dec 6, 2012

,

Motion For Summary Judgment

Adams

Defense of legal malpractice claim

1st Appellate Dist

Daniel Siegel, et al. v. Life Center Organ Donor Network, et al.,

Plaintiff appealed adverse trial court judgment on claim for unauthorized removal of organ under Uniform Anatomical Gift Act.

Jun 1, 2012

,

Motion For Summary Judgment

U.S. District Court, Southern District of Ohio

Sec 1983 Civil Rights case involving allegations of excessive force, wrongful arrest, and malicious prosecution.

Hamilton

Clark

Defense of catastrophic medical malpractice

Hamilton

Defense of catastrophic personal injury premises liability claim

Brown

Defense of legal malpractice claims based on alleged malfeasance in guardianship administration

Jul 30, 2010

,

Favorable Outcome

Hamilton

Defense of voluntary and involuntary manslaughter charge arising from assault and battery bar fight

Feb 12, 2010

,

Reversed and Remanded

6th Appellate Dist

Tausch v. Riverview Health Institute, LLC

Plaintiff appealed adverse trial court judgment in medical malpractice claim by virtue of tolling of the statute of limitations.

Hamilton

Defense of products liability personal injury.

Sep 11, 2009

,

Plaintiff Verdict

Butler County

Defense of auto liability property damage personal injury claim

Hamilton

Defense of driving under the influence charge

Apr 24, 2008

,

Verdict for the plaintiff

Montgomery

Defense of admitted trucking liability personal injury claim.

(Gallagher Bassett)

Mar 20, 2008

,

Plaintiff Verdict

Hamilton

Defense of admitted trucking liability personal injury claim (AIG)
News
News
Press Release

,

Aug 20, 2020

Press Release

,

Feb 2, 2015

Press Release

,

Dec 17, 2012

Press Release

,

Dec 16, 2011
Speaking Engagements
The Practical Aspects of Choosing and Retaining Medical Experts in Medical Malpractice Litigation

Medical Protective Indiana Insureds Physicians - Fort Wayne, IN

,

Dec 6, 2012

Medical Malpractice in Indiana

CNA HealthPro Division - Chicago, IL

,

Oct 26, 2012
Insights
Publications
Eye Bank and Employee are Immune from Liability under Uniform Anatomical Gift Act

Published case:Daniel Siegel, et al. v. Life Center Organ Donor Network, et al., 2011-Ohio-6032

,

Jul 23, 2012

Ireton v. J.T.D. Realty Investments, LLC 162 Ohio Misc. 2d 1, 2010-Ohio-6692

,

May 2, 2011
Practice Areas
Education
J.D., University of Dayton, 1998
B.S., University of Cincinnati, magna cum laude, 1995
Admissions
State of Ohio, 1998
Commonwealth of Kentucky, 2006
State of Indiana, 2011