Overview
Mick joined Reminger Co., L.P.A with extensive experience in transportation and risk management. He represents trucking entities, senior living facilities, distribution companies, temporary agencies, construction companies among others.
His prior experience in safety, risk and management enhances his current representation of employers in the workers' compensation arena.
Mick practices before the Industrial Commission, common pleas courts, appellate courts and Supreme Court of Ohio. Mick is a member of various professional bar associations. He is also a frequent lecturer on Workers' Compensation issues.
Honors & Recognitions
Listed in Best Lawyers in America for Workers' Compensation Law - Employers

Recognized as a Rising Star by Ohio Super Lawyers Magazine
First recipient of the Leadership Award presented by Leadership Ohio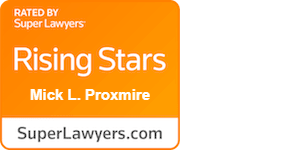 Community & Professional
Ohio State Bar Association
Kentucky Bar Association
Columbus Bar Association
Results
For a more complete list of trial results, please contact attorney.
Apr 19, 2013

,

Plaintiff Verdict

Franklin (Industrial Commission)

Workers' comp administrative prosecution of claim of specific safety requirements violation (VSSR claim)

Dec 11, 2012

,

Judgment Affirmed

10th Appellate Dist

State ex rel. Allied Systems Holdings, Inc. v. Joseph Donders, Honeywell and Industrial Commission of Ohio

Plaintiff appealed adverse judgment in mandamus action in Industrial Commission

Ohio Supreme Court

State of Ohio ex rel Jamey Baker v. Coast to Coast Manpower, Slip Opinion No. 2011-Ohio-2721

Plaintiff appealed 10th District Court of Appeals verdict in workers' compensation case. Workers' comp claimant appealed denial of loss of vision benefits from claimed traumatic cataract injury sustained at work.

Franklin

Trial defense of mandamus workers' comp. claim involving total loss of vision

Dec 16, 2009

,

Mandamus sustained; objections affirmed

Franklin

Prosecution of Workers' Comp. mandamus action for reversal of allowance for claimant for award of full vision loss

Franklin

Defense of personal premises liability, personal injury claim

(FEDERATED DEPT. STORES)

Montgomery

Defense of trial of workers' compensation appeal for allowance of cervical C4, C5 disc herniation arising out of automobile accident during employment.
News
News
Press Release

,

Aug 20, 2020

Press Release

,

Aug 15, 2019
Speaking Engagements
Preparing State Fund Employers and "Open Employers" for Self-Insured Workers' Compensation Administration

Subrogation for Self-Insuring Employers in Workers' Compensation

Columbus Bar Association CLE, Columbus, OH

,

Sep 23, 2015

The Basics of Ohio Workers' Compensation "State Fund" System

Swift Transportation Workers' Comp. Dept., Phoenix, AZ

,

Sep 16, 2015

Ohio Workers' Compensation 6Aspects in Trucking Liability

Nuverra In-House Seminar, Scottsdale, AZ

,

Apr 15, 2015

What Medicare and Medicaid Reporting is Expected of You in a Workers' Comp. Claim

National Institute of Medicare and Medicaid Education Conference, Chicago, Illinois

,

Sep 30, 2014

OSIA Conference-Sponsor

Harrah's - New Orleans, LA

,

Mar 17, 2014

Reminger Solutions to Workers Comp Claims

Ohio Self Insurers Association 39th Annual Conference - Sandusky, OH

,

Jun 12, 2013

Medicare and Medicaid Reports and Set Asides

National Institute for Medicare/Medicaid Education - San Diego, CA

,

Apr 8, 2013

Subrogation Recoveries Arising Out of Workers' Comp. Claim

Gallagher Bassett and ESIS Workers' Comp Claim Groups - Columbus, OH

,

Oct 14, 2011

Workers Compensation 2010 Update - Lorman Education Services

Columbus, OH

,

Oct 29, 2010

Workers' Compensation Subrogation, Dollar General-Sedgwick-Attys and Claim Administrators Meeting

Columbus, Ohio

,

Oct 6, 2008
Insights
Publications
Workers' Compensation Client E-Blast

,

Mar 26, 2020

Ohio Lawyer Magazine – May/June 2013 Issue – page 27

,

May 2, 2013

Published Case: State ex rel. Donohoe v. Kenny Hutson Co.130 Ohio St.3d 360, 2011-Ohio-5798

,

Mar 15, 2012

VSSR Violation Claim in Workers Compensation Requires the Hearing Officer to Specifically Outline the Evidence Relied Upon for Decision
Reminger Reports
Practice Areas
Education
J.D., Capital University Law School, 2001
B.S., The Ohio State University, 1989
Admissions
State of Ohio, 2001
Commonwealth of Kentucky, 2002