Feb 27, 2019
United States Court of Appeals for the Sixth Circuit
Judgment Affirmed
Reminger Obtains Dismissal of Defamation Lawsuit Filed Against Actor James Woods
In one of many nationwide cases discussing the potential legal liability for statements made on social media, Reminger obtained dismissal of a defamation lawsuit filed against Actor James Woods. See Portia A. Boulger v. James H. Woods, 917 F.3d 471 (6th Cir. 2019). This case stemmed from the Chicago Tribune posting a photograph on its Twitter account of a woman at a President Trump rally, wearing a Trump T-shirt, and giving a Nazi salute—a salute with her right hand raised straight up in the air. Twitter user @voxday then posted the Nazi salute photograph, together with a photograph of Portia Boulger and a caption identifying Boulger as an "Organizer (Women for Bernie)." The two photographs and caption were accompanied by the (false) statement. James Woods then tweeted the same two pictures, along with a short biography of Boulger, and added: "So-called #Trump 'Nazi' is a #BernieSanders agitator/operative?'" Because Woods had more than 350,000 followers on Twitter at the time, Boulger received hundreds of obscene and threatening messages, including death threats, despite Woods' subsequent attempt to clarify his post after multiple news outlets reported that the person in the Nazi salute photograph was not Boulger.
Boulger quickly filed a lawsuit against Woods alleging defamation and invasion of privacy under Ohio law. Reminger's Patrick Kasson, a Partner in Columbus, Ohio, quickly moved for judgment on the pleadings, arguing that the statements made in Woods' tweet was a question and not an actionable statement of fact. The United States District Court for the Southern District agreed and dismissed the lawsuit after conducting a detailed analysis of Ohio's law on defamation, ultimately holding: "Because the tweet is reasonably susceptible of more than one interpretation, one of which is non-defamatory, the Court finds the specific language used weighs against the tweet being actionable for defamation." The Sixth Circuit Court of Appeals agreed and affirmed the lower court's dismissal through a detailed option authored by Chief Judge R. Guy Cole, Jr.
Reminger's work led to a public "thank you" from Woods, of course posted on Twitter.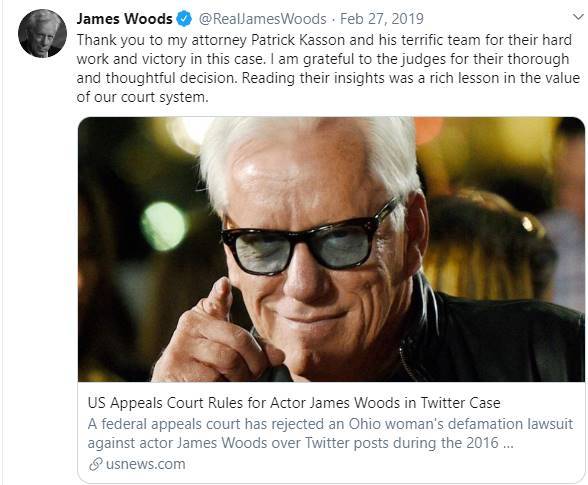 View Document(s):
Attorneys
Practice Areas