CLEVELAND, OH – The Reminger Foundation has awarded a $100,000 grant to MedWish International to support their efforts in responding to critical medical supply shortages and other basic emergency needs in Ukraine. The Reminger Foundation is a 501(c)(3) charitable organization funded by the attorneys and staff of Reminger Co., LPA, and friends of the law firm.
"I was deeply struck by a local news story of Paul Jeris, a Northeast Ohio man who dropped everything and flew to Poland to help Ukrainian refugees at the border," said Stephen Walters, Managing Partner of Reminger Co., LPA and Chair of The Reminger Foundation. "We felt compelled to demonstrate our support and solidarity with Ukraine from right here in our local community."
MedWish International, a Cleveland, Ohio based non-profit organization, is working to distribute medical supplies and equipment as well as basic emergency supplies to relief organizations in Ukraine and surrounding countries directly assisting those impacted by the emergency.
"We were immediately impressed by MedWish's operations and longstanding partnerships with Northeast Ohio's medical institutions," stated Walters. "Reminger is proud to support MedWish in responding to the critical medical and emergency supply shortages in Ukraine."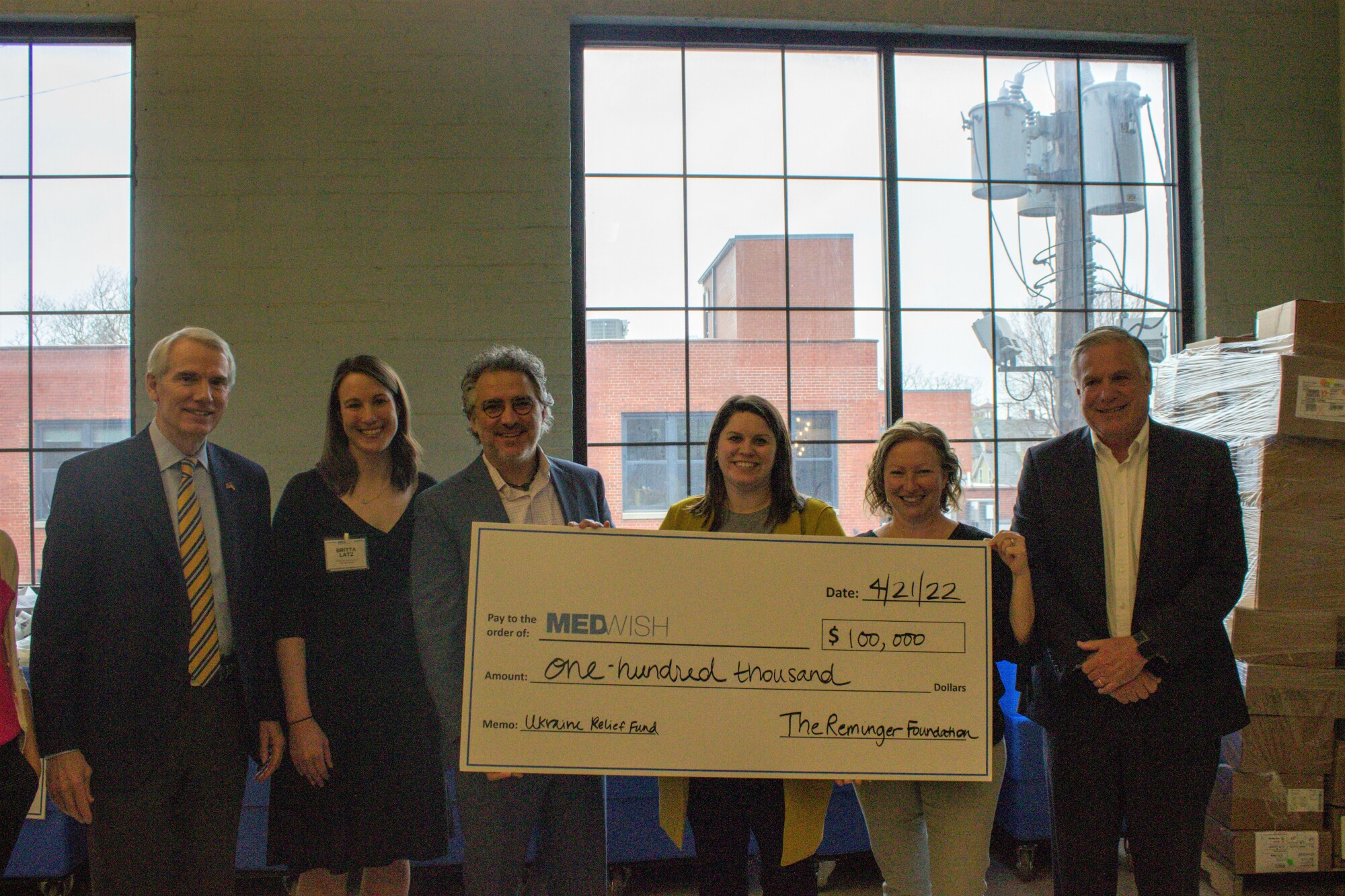 Left to Right: U.S. Senator Rob Portman, Britta Latz (MedWish Executive Director), Lee Ponsky, MD, FACS (MedWish Founder & Chairman of the Board), Allison Busser (MedWish Development Director), Jeanne Mullin (Reminger Partner), Richard Rymond (Reminger Partner).
About Reminger, Attorneys at Law: Reminger Co., L.P.A. is a full-service law firm with fifteen offices throughout the Midwest: Cleveland, Cincinnati, Columbus, Akron, Youngstown, Sandusky, Toledo, Fort Mitchell, Lexington, Louisville, Indianapolis, Fort Wayne, Northwest Indiana, Evansville, and Pittsburgh. With more than 160 attorneys collectively, Reminger's practice areas include all aspects of litigation, along with corporate, tax, real estate and probate matters. Our fundamental objective in all the legal services we provide is to obtain the best possible results for our clients in the most practical and efficient manner possible. For more information, visit www.reminger.com