Reminger Co., LPA attorneys are working diligently to keep abreast of updates and information concerning the Coronavirus (COVID-19) outbreak, and what it means for employers, insurance carriers, and other professionals, as well as for you personally. Please find links below to all articles written by our attorneys who are cross-trained on this complex, wide-ranging, and constantly evolving subject.
Reminger has been supporting clients with timely alerts and strategic guidance regarding legal matters that have been impacted by the Coronavirus (COVID-19) pandemic.
We are here to help answer your questions and provide assistance during these uncertain and challenging times. As always, contact a Reminger attorney with any questions or for clarification.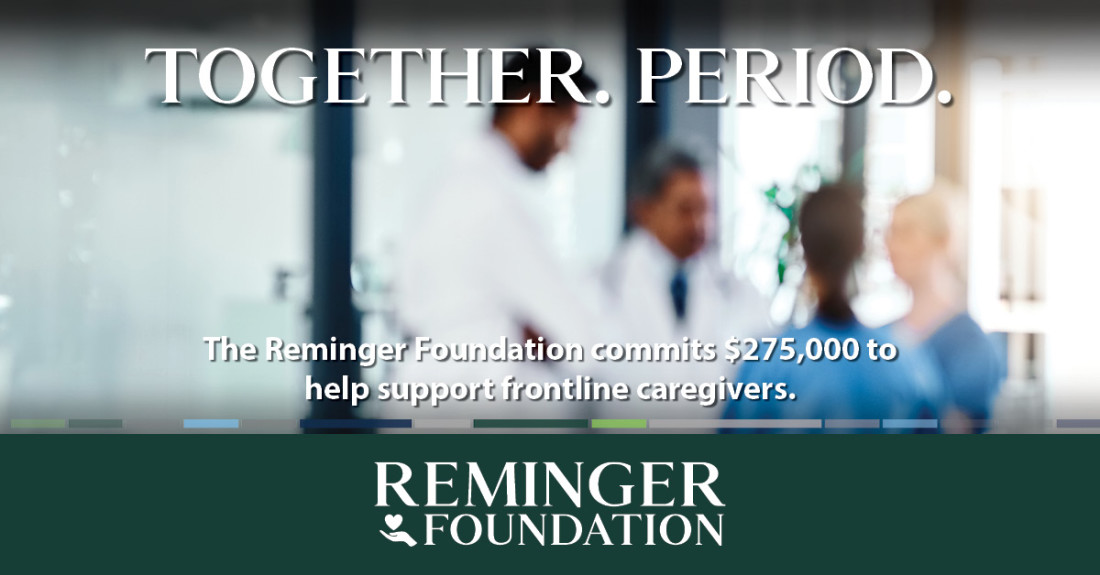 The Reminger Foundation Commits $275,000 to COVID-19 Response Funds in Supporting Frontline Caregivers
Press Release, Mar 31, 2020
---
FEATURED NEWS

Indiana Passes COVID-19 Immunity Legislation

Coping With COVID: Handling fatigue in the essential workforce

Kentucky Supreme Court Upholds Governor's Power to Issue COVID-19 Health Mandates

COVID and Household Employees: The Rise of Household Employers

Tolling of Ohio's Litigation Deadlines
---
WEBINARS

Recording: Stress on the Rise… Is it Compensable?
Webinar: January 21, 2021
Tricia Bellich, Jayme Hart, Danielle Lorenz and Samantha Steelman

Reasonable Sanitation/Mitigation Efforts to Prevent COVID Exposure (2020 Harmonie Trucking & Transportation Seminar)
Webinar: November 12, 2020
Nathan Lennon

Effectively Supporting Employees Through COVID-19 Related Mental Health Challenges
Webinar: November 10, 2020
Chad Willits
Recording:
Injured While Working From Home? Is It Compensable?
Webinar: October 15, 2020
Tricia Bellich
,
Mick Proxmire
,
Kevin Sanislo
and
Samantha Steelman
Recording: Telemedicine: New Technology Brings New Considerations
Webinar: September 25, 2020
Nicholas Brunette
and
Trenton Gill
Recording: Update on the Families First Coronavirus Response Act
Webinar: September 1, 2020
Chad Willits
Workers Compensation implications of COVID in Ohio, Kentucky, & Indiana
Webinar: July 28, 2020 2:00 - 3:00 PM EST.
Kevin Sanislo, Mark Bush and Alex Beeman



Paid Leave Obligations For Local Government Employers Under New Federal COVID-19 Laws


Webinar: July 14, 2020 2:00 - 3:00 PM EST.
Thomas Spyker and Patrick Kasson
Webinar
,
Jun 2, 2020
,
2:30P.M. - 3:30 P.M. EST
---
Coronavirus COVID-19 Coverage and Liability Claim Issues
Business Interruption Claims
Civil Authority Losses
CGL Coverage
Event Coverage
Workers' Compensation
D&O Policies/Management Liability Policies
Claims Against Brokers and Agents Under E&O Policies
Employment Claims
Good Claims Practices Recommendations
Insurance Coverage/Bad Faith Client Newsletter, Apr 3, 2020
---
Executive Order Expands TTD Liability in Kentucky COVID-19 Cases
Workers' Compensation E-Blast, Apr 10, 2020
Ohio House and Senate Approved HB 197
Workers' Compensation E-Blast, Mar 26, 2020
Kentucky Temporary Total After A COVID-19 Light Duty Layoff
Workers' Compensation E-Blast, Mar 20, 2020
Indiana Temporary Total After A COVID-19 Light Duty Layoff
Workers' Compensation E-Blast, Mar 20, 2020
Ohio Temporary Total After A COVID-19 Light Duty Layoff
Workers' Compensation E-Blast, Mar 20, 2020
Kentucky Department of Workers' Claims Announces Cancellations Amid COVID-19 Concerns
Workers' Compensation E-Blast, Mar 16, 2020
Ohio Industrial Commission Responds to COVID-19 Restrictions and Announces Plan for Telephonic Hearings
Workers' Compensation E-Blast, Mar 16, 2020
Coronavirus Disease (COVID-19) - A Legal Primer for Employers and Carriers for Kentucky
Workers' Compensation Client E-Blast, Mar 12, 2020
Coronavirus Disease (COVID-19) - A Legal Primer for Employers and Carriers for Indiana
Workers' Compensation Client E-Blast, Mar 12, 2020
Coronavirus Disease (COVID-19) - A Legal Primer for Employers and Carriers for Ohio
Workers' Compensation Client E-Blast, Mar 12, 2020
---
Untangling Paid Leave Obligations for Small Businesses Under the Families First Coronavirus Response Act and Department of Labor Guidance
Employment Law Recap, Apr 10, 2020
EEOC Suspends Right to Sue Notices Amid COVID-19 Pandemic
Client E-Blast, Apr 9, 2020
While COVID-19 Forces Many to Work from Home, the Sixth Circuit Issues Ruling Requiring Disabled Employees to Present Documentation of Medical Necessity to Receive a Work from Home Accommodation
Reminger Report, Apr 6, 2020
Relief Opportunities for Small Businesses Under the Coronavirus Aid, Relief, and Economic Security (CARES) Act
Client E-Blast, Apr 1, 2020
COVID-19: Layoffs, Furloughs, and Reducing Hours/Wages - What is the Right Approach for Your Business?
Client E-Blast, Mar 30, 2020
Working Remotely Amidst COVID-19 - Reducing Liability Risks Through a Sound Policy and Communication
Client E-Blast, Mar 30, 2020
New Families First Coronavirus Response Act-What Employers Should Know
Client E-Blast, Mar 20, 2020
What Employers Need to Know About Coronavirus and the Workplace
Client E-Blast, Mar 18, 2020
---
OCIE Issues Risk Alerts Following SEC Announcement that Compliance Deadline for Reg BI Shall Remain as Scheduled Despite COVID-19 Pandemic
Financial Services Professional Liability E-Blast, Apr 9, 2020
SEC Announces that Compliance Deadline for Reg BI Shall Remain as Scheduled Despite COVID-19 Pandemic
Financial Services Professional Liability E-Blast, Apr 6, 2020
Common Sense in Anticipation of Financial Services Litigation in the Wake of COVID-19
Financial Services Practice Group E-Blast, Mar 25, 2020
---
Ohio Governor Eases Restrictions on Elective Surgeries
Client Eblast, Apr 24, 2020
Legal Vaccine Against COVID-19 - Will Health Care Providers See Legal Protections?
Client Eblast, Apr 7, 2020
The Proliferation of Telemedicine Brings Significant Privacy and Malpractice Considerations
Reminger Report, Apr 2, 2020
Ohio State Dental Board Releases COVID-19 Advisory
Client Bulletin, Mar 16, 2020
---
Families First Coronavirus Response Act Imposes Paid Leave Obligations on a Broad Range of Public Entities
Governmental/Public Entity Liability Client E-Blast, Apr 16, 2020
---
Federal Motor Carrier Safety Administration Loosens Regulations to Bolster COVID-19 Response
Reminger Report, Mar 25, 2020
---
Ohio's Response to COVID-19 Impacting Probate/Trust Law and the Courts
Estate and Trust Dispute Resource Center Blog, Mar 24, 2020
Estate Planning in Light of Coronavirus (COVID-19)
Estate and Trust Dispute Resource Center Blog, Mar 24, 2020