Practice Areas
Education
B.A., The Ohio State University, 1989
J.D., Capital University Law School, 1992; Law Review Business Editor, 1991-92
Bar Admissions
State of Ohio, 1992
U.S. District Court, Southern District of Ohio, 1993
Profile
Results
News & Media Coverage
Presentations & Publications
Expand All
As a young man I learned from my father the idea that if you worked hard everything else would take care of itself. That is the same work ethic I employ today in every client matter entrusted to me; no matter how big or how small.
After starting his career with the Ohio Industrial Commission, Ron has been serving Reminger's diverse workers' compensation and occupational injury clientele since 1995. In that time Ron has handled the various types of disputes involving occupational accidents and injuries. These experiences include administrative hearings, trials to verdict, appeals before the Ohio Courts of Appeal and the Ohio Supreme Court, and OSHA citations. In addition, Ron provides counsel to employers, third-party administrators and service providers concerning their risk management programs and their relationship with Ohio's Bureau of Workers' Compensation. These issues include coverage and classification disputes, self-insurance acquisition and compliance, and provider certification.
Ron's experiences have allowed him to handle claims from injury reporting through trial, including taking over a case and obtaining a unanimous defense verdict reversing an award under Ohio's pre-substantial aggravation subjective standard. Ron's risk management work on behalf of our clients has also resulted in substantial cost savings, including one instance where he recovered $1.4 million from the Ohio Bureau of Workers' Compensation for overcharged premiums.
As a leader in our firm Ron is the managing partner of our Columbus office, he co-chairs our workers' compensation practice group, and serves on the firm's managing and executive committees. Ron has also been recognized as a specialist in workers' compensation law by the Ohio Supreme Court and is peer rated by Martindale Hubble, Best's and Super Lawyers.
Honors & Recognitions
AV Preeminent® Rated with Martindale-Hubbell® Peer Review Ratings™
Certified as a Specialist in Workers' Compensation Law by the Ohio State Bar Association

2014 Top Lawyers Central Ohio, Columbus CEO Magazine

2017 Top Lawyers Central Ohio, Columbus CEO Magazine

2018 Top Lawyers Central Ohio, Columbus CEO Magazine

2019 Top Lawyers Central Ohio, Columbus CEO Magazine

Recognized as a Super Lawyer by Ohio Super Lawyers Magazine

Listed in Best Lawyers in America for Workers' Compensation Law - Employers, since 2016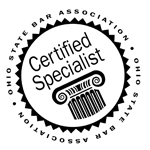 Author:
"Recent Developments Under Ohio's Workers' Compensation Intentional Tort Statute: Brady v. Safety-Klean Corp., 20 Cap. U. L. Rev. 1031" (Fall 1991)
"Unauthorized Practice of Law Controversy Continues in Ohio: Another Blip on the Screen, or a Wake Up Call for TPA's?", The Self-Insurer, Volume 21, July 2004
Professional Memberships & Community Affiliations
Ohio State Bar Association
Columbus Bar Association
Testimonials
"I recommend Ron because of his professionalism and knowledge, and the satisfaction I have had from working with him. Ron has done an excellent job on the claims that he has handled for our company. I feel Ron is an excellent attorney and Reminger should be very proud to have him as part of their team."
-Cathy, Workers' Compensation Manager
"Ron is always well prepared and thorough in all matters on our cases. He doesn't tell us what we want to hear; he gives us options on how best to handle the case."
-Geoff, Workers' Compensation Manager
"Thank you Ron. You did excellent work for us, and not just because the result was favorable. Your analysis of the case, legal guidance, defensive strategy, and follow-up have been exemplary. I would like you to represent us in the future if any litigation transpires in the state of Ohio."
-Hilary, Regional HSE Manager
Results
For a more complete list of trial results, please contact attorney.
Dianne Doughty vs. Central Ohio Gaming Ventures, LLC

November 9, 2016

,

Motion For Summary Judgment Granted

Franklin

Workers' compensation right to participate appeal by Plaintiff

In Re: Staffing Solutions SE

Calculated savings in excess of $200,000.

Defense of state-fund employer from BWC decision to exclude employer from group rating based on merger and resultant experience combination.

In Re: Manheim Inc

Reduced amount owed to less than $50,000.

Defense of state-fund employer against BWC audit seeking $600,000.00 in back premiums based on alleged misclassification of manual payroll.

Robert Proctor vs. Lowe's Home Centers, Inc.

Prosecution of employer's right to participate appeal to additional allowance of lumbar spondylosis, aggravation of pre-existing lumbar degenerative arthritis and herniated cervical disc.

Priest v. Honeywell Inc. 

Defense of injured worker's right to participate appeal to denial of psychological conditions.

Geddes v. FedEx Freight East, Inc.

Prosecution of employer's right to participate appeal on additional allowance of depression.

In Re: Behr Dayton Thermal Products, LLC

Recovery of $1.4 Million from Ohio BWC based on breach of incentive contract between employer, Ohio BWC and Ohio Department of Development.

Gerlach v. FedEx Freight East, Inc.

Defense of employer in injured workers' right to participate appeal to denial of original allowance of claim.

State ex rel ABF Freight System Inc. v. Industrial Commission of Ohio

Prosecution of employer action in mandamus to reverse loss of use award.
News
Press Release

,

November 27, 2019

Press Release

,

August 15, 2019

Press Release

,

May 22, 2019

Press Release

,

December 5, 2018

Press Release

,

August 15, 2018

Press Release

,

May 29, 2018

Press Release

,

December 6, 2017

Press Release

,

August 15, 2017

Press Release

,

April 3, 2017

Press Release

,

December 2, 2016

Press Release

,

August 15, 2016

Part B News

,

May 16, 2016

Columbus Business First

,

February 3, 2016

Press Release

,

December 2, 2015

Press Release

,

August 17, 2015

Press Release

,

December 3, 2014

Selection Includes 30 Super Lawyers and 16 Rising Stars Across Ohio and Kentucky

Press Release

,

December 5, 2013

Press Release

,

December 17, 2012

Press Release

,

December 16, 2011
Presentations
Defense Strategies in the Workplace with Medical Marijuana

Kraft-Heinz Workers' Compensation Annual Conference

,

Lisle, IL

,

March 6, 2019

Occupational Safety and Workers' Compensation Risk Management

Kraft Heinz National Counsel Conference

,

Chicago, IL

,

March 18, 2018

The Ins and Outs of  Ohio BWC 3rd Level Audit

Dollar General Workers' Comp. Staff

,

Goodlettsville, TN

,

May 9, 2017

Practical Application of the Concussion Syndrome Injury in the Workers' Comp. Context

Gallagher Bassett Regional W/C Claim Office

,

Dublin, OH

,

September 26, 2016

How to Defend Against Substantial Aggravation Cases and Concussion/Post-Concussion Cases

Gallagher Bassett W/C Regional Claim Office

,

Dublin, OH

,

September 26, 2016

Substantial Aggravation in Workers' Comp Injuries

Comp Management Inc., Columbus, OH

,

March 8, 2016

Substantial Aggravation in Workers' Comp Injuries

Sedgwick CMS, Dublin, OH

,

February 29, 2016

Updates on Ohio Workers' Compensation Law

Sedgwick CMS In-House Workshop, Hilliard, OH

,

February 15, 2016

Primer for Ohio Workers' Compensation Claim Handling

Dollar General Corporate Headquarters, Goodlettsville, TN

,

August 19, 2014

Claims Handling Strategies and A Self Insured Employer Audit Summary in Ohio

Macy's Corporate Risk Management Dept. - Cincinnati, OH

,

May 2, 2012

Best Practices for Workers' Comp. Claim Handler and Outside Counsel

CareWorks Consultants and Gallagher Bassett Claim Departments - Columbus, OH

,

October 14, 2011

Wage Loss and Living Maintenance Wage Loss in Workers' Compensation

CareWorks Consultants, Inc. - Dublin, OH

,

August 3, 2011
Publications
Published case:   State Ex. Rel. Lacroix v. Industrial Commission 144 Ohio St. 3d 17, 2015-Ohio-2313

,

December 15, 2015

Fall 2010 Newsletter

,

October 14, 2010

Columbus CEO October 2010 Article

,

September 21, 2010