Practice Areas
Education
J.D., Capital University Law School, 1994
B.A., The Ohio State University, 1989
Bar Admissions
State of Ohio, 1994
U.S. District Court, Southern District of Ohio, 1994
Profile
Results
News & Media Coverage
Presentations & Publications
Expand All
I live my life with the philosophy that nothing beats hard work. This is the same philosophy I employ for my clients. My goal is to work hard to provide the best service and counsel in order to effectively and efficiently solve my clients' problems.
Paulette practices in the Columbus office of Reminger Co., L.P.A., where she is a leader in the Workers' Compensation practice group. She represents and advises employers in all aspects of their workers' compensation and risk management programs, including individual claim processing, policy coverage issues and violations of specific safety requirements. Paulette provides representation and counsel on employment related matters involving intentional torts, retaliatory claims and Family Medical Leave Act. Her practice includes representing employers in administrative hearings before the Industrial Commission of Ohio and the adjudicating bodies of the Ohio Bureau of Workers' Compensation, as well as extensive trial and appellate experience, representing employers at all levels of the Ohio court system.
Paulette is a Certified Specialist in Workers' Compensation by the Ohio State Bar Association, under the approval of the Supreme Court of Ohio. She frequently lectures on the topic of workers' compensation and employment related matters for various groups, including the Ohio State Bar Association. She was an invited speaker at the Industrial Commission Statewide Hearing Officer's Training Meeting in Maumee Bay, Ohio in October, 2011. Paulette has been voted by her peers as one of Cincinnati Magazine's Ohio Super Lawyers every year since 2004. She has been listed in Best Lawyers in America® since 2007 and has been listed by Columbus Business First as one of Central Ohio's Best Lawyers. Paulette is a multi-year designee as one of the Top 25 Women Lawyers in Columbus and Top 50 Women Lawyers in Ohio as published by Columbus Monthly magazine through peer voting standards.
Honors & Recognitions
Certified as a Specialist in Workers' Compensation Law by the Ohio State Bar Association
Recognized as a Super Lawyer by Ohio Super Lawyers Magazine for more than ten years
Named a Top 25 Women Columbus Lawyer and a Top 50 Women Ohio Lawyer by Ohio Super Lawyers Magazine
Listed in Best Lawyers in America for Workers' Compensation Law-Employers, since 2007

Rated AV® Preeminent™: Very Highly Rated in Both Legal Ability and Ethical Standards by Martindale Hubbell Peer Review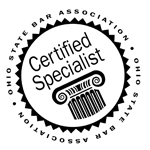 Professional Memberships & Community Affiliations
Ohio State Bar Association
Columbus Bar Association
Licking County Bar Association
Ohio Women's Bar Association
Testimonials
"Paulette's skill in litigating cases, and navigating the Ohio Workers' Compensation system, allows us to simultaneously care for our injured workers and protect our profitability. She anticipates our needs and often sets us on the right path before her services are even needed. Paulette is our go-to person when any complex issues in a claim arise. Paulette combines a tailored approach to each case; when combined with her exemplary service, gets us closer to being a world-class organization."
-Josh, Risk Manager
Results
For a more complete list of trial results, please contact attorney.
Jay Montgomery v. The Shelly Holding Company

June 4, 2014

,

No additional award granted

Ohio Bureau of Workers' Comp.

Defense of additional award for VSSR claim

J. Mattox v. The Shelly Holding Company

November 17, 2009

,

Defense Verdict

Delaware

Defense of workers' compensation claim for allowance of bilateral hip and back injury.
News
Press Release

,

November 27, 2019

Press Release

,

August 15, 2019

Press Release

,

December 5, 2018

Press Release

,

August 15, 2018

Press Release

,

December 6, 2017

Press Release

,

August 15, 2017

Press Release

,

December 2, 2016

Press Release

,

August 15, 2016

Press Release

,

December 2, 2015

Press Release

,

August 17, 2015

Press Release

,

December 3, 2014

Press Release

,

August 18, 2014

Selection Includes 30 Super Lawyers and 16 Rising Stars Across Ohio and Kentucky

Press Release

,

December 5, 2013

Press Release

,

December 17, 2012

Press Release

,

August 24, 2012

Press Release

,

December 16, 2011

Press Release

,

August 31, 2011
Presentations
Workers' Compensation Law from Start to Finish

NBI Seminar

,

Columbus, OH

,

October 15, 2019

Medicare Set Asides, Medicaid Liens and Other Settlement Considerations in Workers' Compensation Claims

National Business Institute CLE

,

Columbus, OH

,

December 14, 2018

Workers' Compensation Claims In Seven Steps

National Business Institute CLE

,

Columbus, OH

,

December 6, 2018

Workers' Compensation from A-Z: 2017 Case Law and Legal Update

National Business Institute

,

Columbus, OH

,

December 6, 2017

Workers' Compensation from A-Z: How to Evaluate a Claim for Settlement

National Business Institute

,

Columbus, OH

,

December 5, 2017

Frequent Compensation Payment Errors in Workers' Comp. Claims

Dollar General Workers' Comp. Staff

,

Goodlettsville, TN

,

May 9, 2017

Ethics and Professional Responsibility

National Business Institute Advanced Workers' Compensation Seminar

,

Columbus, OH

,

September 21, 2016

Primer for Ohio Workers' Compensation Claim Handling

Dollar General Corporate Headquarters, Goodlettsville, TN

,

August 19, 2014

Workers' Compensation from A-Z National Business Institute CLE Seminar

Cincinnati, OH

,

April 23, 2014

Judicial Review of Administrative Decisions in Workers' Compensation Claims

Ohio State Bar Association Workers' Comp. CLE Seminar - Columbus, OH

,

April 4, 2013

Managing and Cost Containment in Temporary Total Disability Issues in Workers' Comp

Careworks Consultants Inc. - Columbus, OH

,

October 5, 2012

Light Duty Job Offer and Economic Loss

Ohio State Bar Assn. Advanced Workers' Comp. CLE - Cleveland, OH

,

September 21, 2012

Light Duty Job Off and Economic Loss

Ohio State Bar Assn. Advanced Workers' Comp. CLE - Columbus, OH

,

September 6, 2012

Judicial Review of Administrative Decisions

Ohio State Bar Association CLE Seminar - Columbus, OH

,

April 13, 2012

Voluntary Abandonment as a Defense to Temporary Total Disability Benefits

Industrial Commission of Ohio Statewide Hearing Officers CLE Seminar - Columbus, OH

,

October 13, 2011

Wage Loss and Living Maintenance Wage Loss in Workers' Compensation

CareWorks Consultants, Inc. - Dublin, OH

,

August 3, 2011

Defending Substantial Injury Aggravation Claims in Workers' Compensation - CareWorks Consultants, Inc. Self insured and State Fund Claims personnel

Judicial Review of Workers' Compensation Decisions

Ohio State Bar Association CLE - Columbus, OH

,

April 15, 2011

Workers Compensation 2010 Update - Lorman Education Services

Columbus, OH

,

October 29, 2010

"Judicial Review of Workers' Comp. Administrative Decisions"

Ohio State Bar Assn. CLE Seminar. Columbus,OH

,

April 14, 2010

Judicial Review of Administrative Decisions

An Overview of Workers' Compensation

Judicial Review of Administrative Decisions, Ohio State Bar Association CLE

Cleveland, Ohio

,

June 4, 2008

Overview of the Workers' Compensation System, Advanced Workers' Compensation Seminar

Columbus, OH

,

June 20, 2007

Judicial Review of Workers' Comp. Administrative Decisions, Ohio State Bar Association-Continuing Legal Education Seminar
Publications
Fall 2010 Newsletter

,

October 14, 2010

Major Changes to Ohio's Workers' Compensation Act Apply after passage of Senate Bill 7