Overview
Danny is the Managing Partner of Reminger's Northwest Indiana office. He serves as Co-Chair of the firm's Long-Term Care Liability Practice Group and is a leader in the Trucking and Commercial Transportation Practice Group. He is also a member of the firm's Management Group. Danny has a diverse civil litigation defense practice that primarily focuses on medical malpractice, nursing home litigation and trucking litigation. He also handles matters involving general tort liability, products liability, employment litigation, directors and officers liability, and professional liability.
Danny graduated summa cum laude from Capital University Law School, where he was a recipient of the Winston C. Allen Memorial Scholarship and finished in the top 3% of his class. He was a member of the Mock Trial Team and took 1st place at the 2001 ATLA Regional Trial Advocacy Competition. Danny was also a staff member on Capital's Law Review. Prior to joining Reminger, Danny served as a judicial clerk for Franklin County Probate Court Judge Lawrence A. Belskis.
Danny has tried several jury cases and argued in front of multiple appellate courts, including the Supreme Court of Ohio. He has participated in numerous mediations and arbitrations. Danny has presented at numerous educational seminars to both legal and non-legal professionals in the areas of risk management and nursing home litigation.
Honors & Recognitions
Recognized as a Rising Star by Ohio Super Lawyers Magazine
Honored as a Senior Fellow of the Litigation Counsel of America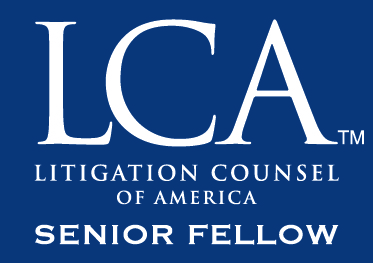 Community & Professional
Indiana State Bar Association
Lake County Bar Association
Defense Trial Counsel of Indiana
Ohio State Bar Association
Federal Bar Association
Defense Research Institute
Kentucky Bar Association
Ohio Association of Civil Trial Attorneys
Senior Fellow, Litigation Counsel of America
Legal Committee Member, Indiana Health Care Association
Results
For a more complete list of trial results, please contact attorney.
Feb 25, 2021

,

Partial Summary Judgment Granted

Indiana Supreme Court

Reversal of Denial of Partial Summary Judgment on Interlocutory Appeal in negligence and wrongful death claim against an adult day program.

Oct 25, 2019

,

Defense Win

St. Joseph, IN

Defense of claim against two radiologists alleging negligent diagnostic interpretations of a CT and then an ultrasound that caused pain and suffering and an emergent surgery.

Apr 3, 2018

,

Motion For Summary Judgment Granted

Porter County, IN

Defense of secondary workers' comp. claim against insured in catastrophic injury case

Jan 19, 2018

,

Dismissal of All Claims

Elkhart

Bench trial – Dismissal of all claims asserted against our client pursuant to Indiana Trial Rule 41(B) after Plaintiff rested his case-in-chief; judgment in favor of our client on counter-claim.

Apr 19, 2017

,

Defense Verdict

United States District Court for the Northern District of Indiana

Defense of industrial personal injury claim arising from fall at steel mill claimed by business invitee

U.S. Sixth Circuit Court of Appeals

Miami Valley Fair Housing Center, Inc. v. Steiner & Associates, et al.

Third-party plaintiffs appealed adverse trial court judgment on jurisdiction over third-party defendants

Jan 9, 2012

,

Judgment Affirmed

12th Appellate Dist

J. Butler, Admr. of the E/O Aubrey M. Butler, et al., v. Wyndtree Housing Limited Partnership, et al.

Plaintiff appealed adverse trial court judgment in wrongful death claim based on negligence of landlord in maintaining smoke detectors that allegedly contributed to the wrongful death.

Jun 20, 2011

,

Judgment Affirmed

12th Appellate Dist

S. Morris v. Dobbins Nursing Home, et al.

Plaintiff appealed adverse trial court judgment in employment practices liability case.

May 9, 2011

,

Finding For Defendant

Hamilton

Arbitration defense of dental malpractice claim

Nov 3, 2008

,

Defense Verdict

Hamilton

Defense of wrongful death nursing home liability case (Preferred Managed Risk)

Jul 25, 2007

,

Finding For Defendant

Hamilton

Arbitration defense of dental liability claim.

Apr 25, 2007

,

Defense Verdict

Scioto

Defense of medical malpractice claim on behalf of vascular surgeon.
News
News
DRI's The Voice

,

May 18, 2017

Press Release

,

Sep 30, 2015

Press Release

,

Apr 2, 2012

Press Release

,

Dec 16, 2011
Speaking Engagements
Best Practices in Dealing with Aggressive Tactics of Plaintiff Counsel in Long-Term Care

Detroit, MI

,

Nov 28, 2017

Documentation, State Requirements, and Interplay between Marketing Materials, Documentation and Risk Management

American Assisted Living Nurses Assn., New York, NY

,

Apr 5, 2016

Best Practices for Long Term Care Litigation

American Conference Institute 6th Annual Forum on Long Term Care and Litigation, Miami, FL

,

Jan 20, 2016

Wrongful Death Trinity

Schaumburg, IL

,

Dec 4, 2015

Best Practices in Defense of Nursing Home Falls

Ohio Health Care Association, Columbus, OH

,

Apr 29, 2015

Ethical Concerns in Long Term Care Litigation - American Conference Institute Annual Forum on Preventing and Defending Long Term Care Litigation

Cincinnati, OH

,

Jan 30, 2015

Hot Topics in Nursing Home Long-Term Care Risk Management

Marion, Ohio

,

Jul 16, 2014

Hot Topics in Nursing Home and Long Term Care Risk Management

United Church Homes Annual Leadership Conference - Columbus, OH

,

Jul 16, 2014

Peer Review And Quality Assurance Privilege In Long Term Care Litigation

Ohio Health Care Association Annual Meeting, Columbus, OH

,

Apr 30, 2014

Resident on Resident Violence in the Nursing Home Setting

Academy of Senior Health Services Annual Convention - Columbus, OH

,

Oct 25, 2013

How the Defense Screens, Evaluates and Assesses Nursing Home Cases

Kentucky Justice Association CLE - Lexington, KY

,

May 31, 2013

Resident on Resident Violence Potential Defenses and Things to Consider

Ohio Health Care Association Long Term Care & Expo - Columbus, OH

,

May 1, 2013

Preserving Security Evidence and Retailer and Hospitality Liability

Sedgwick Save-A-Lot Dedicated Claims Unit - Minneapolis, MN

,

Jan 16, 2013

Arbitration Agreements in Long Term Care – Are they Enforceable?

Academy of Senior Health Services Annual Convention & Expo - Columbus, OH

,

Nov 2, 2012

Arbitration Agreements in Long Term Care - Are They Enforceable?

OHCA Annual Convention and Exposition - Columbus, OH

,

May 3, 2012

Payment For Services Issues Affecting Long Term Care Malpractice Liability

Cincinnati Nursing Home Association - Cincinnati, OH

,

Apr 25, 2012

Defending Charting Errors and Omissions Going Beyond the Basics - American Conference Institute

Long Term Care Seminar - Miami, FL

,

Feb 3, 2012

Peer Review Quality Assurance and Privilege in Nursing Home Litigation

Ohio Health Care Association's Annual Convention and Exposition - Columbus, OH

,

May 4, 2011

Documentation Basics for Nursing Home and Long Term Care Liability Avoidance

Risk Management Solutions (RMS) and LTC Claims Annual Seminar - Cincinnati, OH

,

Apr 12, 2011

Risk Management in Nursing Home Claims Avoidance

Risk Management Solutions (RMS) and LTC Claims Annual Seminar - Cincinnati, OH

,

Apr 7, 2011

Preventing Long Term Care Litigation

American Conference Institute Long Term Care Seminar - Miami, FL

,

Apr 5, 2011

Peer Review and Quality Assurance in Nursing Home Liability Defense

Ohio Academy of Nursing Home Annual Convention - Columbus, OH

,

Oct 20, 2010

Nursing Home Risk Management and Ways to Avoid the Courtroom

Ohio Academy of Nursing Home Annual Convention - Columbus, OH

,

Oct 20, 2010

Resolving Nursing Home Claims Pre-Suit

Risk Management Solutions CLE Seminar. Cincinnati,OH

,

Apr 15, 2010

-Hot Topics in Litigation; - Hot Topics for Nursing Home Risk Management; - Electronic Discovery and Litigation

Trial of a Nursing Home Negligence Wrongful Death case

Medical Malpractice and Risks Affecting the Cosmetic Surgeon, American Academy of Cosmetic Surgery Regional Meeting

Cincinnati, Ohio

,

May 4, 2008

Nursing Home Litigation and Best Practices in Nursing Notes Charting, Avalon Claims, Risk Management Solutions and Preferred Managed Risk Nursing Home and Extended Care Facilities Owners and Operators

Columbus, Ohio

,

Apr 8, 2008

Nursing Home Litigation and Best Practices in Nursing Notes Charting, Preferred Managed Risk, Avalon Claims, and RIsk Management Solutions Seminar for Nursing Home Owners and Operators

Cleveland, Ohio

,

Apr 3, 2008

Nursing Home Litigation and Best Practices in Nursing Notes Charting, Preferred Managed Risk Regional Insureds

Cincinnati, Ohio

,

Apr 1, 2008

Medical Malpractice Perspectives on Cosmetic Surgery, American Academy of Cosmetic Surgery

Cincinnati, Ohio

,

May 11, 2007
Insights
Publications
Insurance Coverage/Bad Faith Client Newsletter

,

Apr 3, 2020
Clerkships
Judicial clerk for Franklin County Probate Court Judge Lawrence A. Belskis, 1999-2000
Education
J.D., Capital University Law School, summa cum laude, 2002
Winston C. Allen Memorial Scholarship
Finished in the top 3% of his law school class
The Order of the Curia, 2002
Mock Trial Team Member - First Place, ATLA Regional Trial Advocacy Competition, 2001
Capital's Law Review Staff Member, 2001
B.A., University of Arizona, 1997
Admissions
State of Ohio, 2002
U.S. District Court, Southern District of Ohio, 2002
Commonwealth of Kentucky, 2003
U.S. District Court, Western District of Kentucky, 2003
U.S. District Court, Eastern District of Kentucky, 2003
U.S. Court of Appeals, Sixth Circuit, 2003
U.S. District Court, Northern District of Indiana, 2015
U.S. District Court, Southern District of Indiana, 2015
U.S. Court of Appeals, Seventh Circuit, 2015
State of Indiana, 2015