Overview
Aaren is based in Reminger Co., LPA's Cleveland office, where her practice focuses on a variety of areas including appellate practice, insurance coverage defense, professional liability, and general liability. Aaren joined Reminger as a law clerk in 2017 and has honed her skills in each stage of litigation, including pleadings, various motion practice, discovery, trial, post-trial motions and appeals.
Aaren graduated cum laude from Cleveland-Marshall College of Law in 2018, where she competed as a member of Cleveland-Marshall's Moot Court Team for two years. Aaren's team finished 1st overall in the August A. Rendigs, Jr. National Products Liability Moot Court Competition. While at Cleveland-Marshall, Aaren worked as judicial extern to the Honorable Chief Justice Maureen O'Connor, learning and observing the Ohio Supreme Court's discretionary review process first hand.
Honors & Recognitions
Recognized as a Rising Star by Ohio Super Lawyers Magazine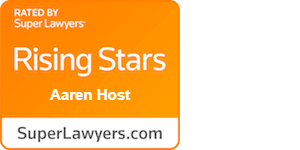 Community & Professional
Ohio State Bar Association
Cleveland Metropolitan Bar Association
Results
For a more complete list of trial results, please contact attorney.
Nov 23, 2020

,

Judgment Affirmed

11th Appellate Dist

Plaintiff appealed trial court's dismissal of plaintiff's negligence claim against client, determining that plaintiff could not bring a stand alone negligence claim against a liquor-permit holder.

Oct 28, 2020

,

Motion for Judgment on Pleadings Granted

Cuyahoga County Court of Common Pleas

Granting of Motion for Judgment on the Pleadings and dismissing Plaintiff's legal malpractice claim on the basis that the attorney-defendant owed no duty to Plaintiff to object to a sentence arising out of a probation violation when Plaintiff committed non-technical violations of her parole.

Sep 17, 2020

,

Judgment Reversed and Remanded

8th Appellate Dist

Appealed trial court judgment dismissing school board's claim regarding sharing of tax revenue.

Jan 2, 2020

,

Judgment Affirmed

8th Appellate Dist

Appellate court affirms trial court's dismissal of plaintiff's legal malpractice claim, finding that defendant-attorney exercised sound professional judgment.

Sep 19, 2019

,

Judgment Affirmed

8th Dist. Cuyahoga No. 108077, 2019-Ohio-3774

Employment discrimination claim dismissed by trial court by way of summary judgment motion practice and affirmed by appellate court on appeal.

Sep 5, 2019

,

Complaint dismissed with prejudice

Cuyahoga

Time-barred legal malpractice complaint dismissed in its entirety following a grant of defendant-attorney's motion for judgment on the pleadings 171 days after receipt of assignment.

May 17, 2019

,

Dismissal of complaint

Cuyahoga

Defense of legal malpractice claim against appellate attorney alleging a failure to object to the State's submission of inadmissible exhibits into the appellate file.

May 16, 2019

,

Directed Verdict

Cuyahoga

Defense of insurance agent E&O claim arising out of motor vehicle accident.
News
News
Press Release

,

Dec 8, 2020

Press Release

,

Dec 19, 2018
Speaking Engagements
Sixth Circuit Holds that Discrimination Based on Transgender Status is Considered Sex Discrimination Under Title VII

Cleveland, OH

,

Dec 7, 2018

Ohio Supreme Court Holds Punitive Damages Not Recoverable in Breach of Contract Action

Cleveland, OH

,

Dec 7, 2018

In Ohio, Electronic Classrooms Must Demonstrate Actual Student Participation to Receive Funding

Cleveland, OH

,

Dec 7, 2018
Insights
Reminger Reports
Practice Areas
Education
J.D., Cleveland-Marshall College of Law, 2018
B.S., Ohio University, 2015
Admissions
State of Ohio, 2018
U.S. District Court, Northern District of Ohio, 2018
U.S. District Court, Southern District of Ohio, 2019

U.S. District Court, Sixth Circuit Court of Appeals, 2019